Searching the internet's long tail and finding parrot cages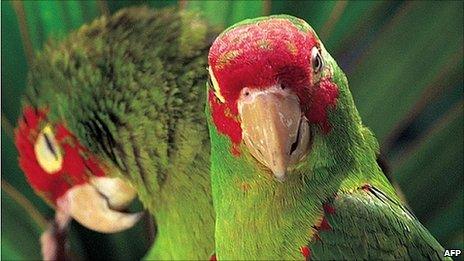 What do you do if you're a successful search marketing agency, running global paid ad campaigns for high-profile clients such as the Hilton hotel group, and you want to expand your expertise?
Move into the parrot cage business, of course.
This isn't a Monty Python sketch. Forward 3D are part of the Forward group, which in 2009 had revenue of £57m. The group includes companies such as Uswitch and Omio. As well as running paid search ad campaigns for clients, Forward 3D are also responsible for InvisibleHand, a price comparison plug-in for browsers.
So how did they end up as the UK's largest importer of parrot cages?
Martin McNulty is the company's general manager. He says, "We've built technology that allows us to process and understand tens of billions of interactions that happen online.
"What do I mean by that? Consumers interact with web-pages, they see adverts and adverts drive them to websites, and within those websites they may or may not choose to transact.
"The net effect of this is that we have technology that allows us to profile demand on the internet, and crucially it allows us to profile profitable demand on the internet."
The company wanted to test an idea they'd had to expand the services they offered to their clients.
So they looked for popular search terms that didn't attract much in the way of paid advertising on Google - working on the assumption that this could signify a gap in the market.
In-depth analysis of massive amounts of click data threw up a lot of pet supplies queries, and in particular parrot cages. They tested the water by buying keywords using Google AdWords, and building a simple ecommerce site using a third-party product, Shopify.
The JustCages website went live - without the ability to actually buy the cages, to gauge demand before sourcing stock.
Within two weeks it became clear the appetite was there. Orders were fulfilled initially by so-called drop shippers; these are manufactures or wholesalers who will ship goods on behalf of vendors directly to the customer, bypassing the need to hold inventory, minimising risk.
Once profitability was proven, the company developed a more sophisticated website, and ultimately began to warehouse inventory. Just over a year later and they operate 10 niche outlets selling cages and pet homes for a range of animals and fish.
Mr McNulty says that "what we absolutely didn't do was build a beautiful website on day one. What we really did was figure out the demand side first."
In the days before e-commerce and the internet, product availability was controlled by the needs of bricks and mortar retailers to invest in stock that was guaranteed to sell. With limited shelf-space and the high cost of holding inventory in warehouses, providing a wide range of niche items with potentially limited appeal to shoppers in a defined geographic area was fairly risky.
The web brought a paradigm shift in retailing. Big online stores such as Amazon, freed from the constraints of bricks and mortar, were able to stock not just best-sellers, but a wide-range of less popular, niche items. And it turned out that some of these harder-to-find items sold well enough over the internet to create a significant revenue stream.
This is the 'long tail', a phrase coined by Chris Anderson of Wired magazine, and subsequently laid out in his book The Long Tail: Why the Future of Business Is Selling Less of More.
Asked to define it, Mr Anderson says, "The nutshell definition is the world beyond the blockbuster."
"It is sort of the everything else. Now, where is that line drawn. Statistically, we've typically drawn the line where the head represents the inventory of the largest bricks and mortar retailer in that space, whereas the tail represents everything else."
The long tail refers to a graph, where the horizontal axis shows all the products one can buy. The vertical axis represents popularity, with just a few blockbuster products selling in huge numbers. All the other products taper off and sell in tiny numbers. But on the internet, this taper - or long tail - is much fatter, because shoppers can user search engines to find the niche products that they can not find in big retail stores.
According to Mr Anderson, the internet is the means for small businesses to operate exclusively in the long tail, and sell these products over huge geographical areas.
"Google represents the kind of universal door to these niche products," he says. "Because they're unique they tend to show up high in a carefully crafted Google search, and because it's the internet you can find it anywhere."
There are other sites who offer a variety of niche shops under one roof to exploit the long tail. US-based Hayneedle is one of them. The firm started out as hammocks.com and is now the umbrella for over 200 speciality stores.
Search analysis has also been used by companies like Demand Media, to track down where demand for information and content lies. But Forward3Ds marriage of the two approaches appears, at the moment, to be unusual.
Adopting a demand-led business model based on search analysis provides other benefits - cost and speed.
Mike Davis, a senior analyst at Ovum, says that "the normal route for a marketing analysis is lots of people and lots of time."
He feels that companies will find other unusual uses for search data. "I can see lots of other innovative ideas or applications coming from these search technologies, because we have so much stuff out there in electronic form."
Mr McNulty agrees. "I think the word that everyone is going to be talking about is metadata, examining the minutiae of your internet behaviour or your purchasing behaviour. And I think that that's the big trend.
"It's very difficult to know what you're going to do with data in advance of it going online, and I think the companies that are going to succeed are the ones that are able to amass lots of data and figure out what to do with it later."
Despite the fact that Forward 3D's focus remains technology, they are preparing to launch a further 20 niche stores, expanding into the long tail to offer cat trees, dog beds and pet food.
JustShops, the subsidiary, offers over 4,000 products, with a further 2,000 due to be added. It now makes over 26,000 shipments a year which add up to £3.2m in sales.
Mr McNulty says "it's our belief that anyone can come up with an idea; turning the idea into something profitable, that's the hard bit.
"And if you can work through tests in a very quick way that doesn't cost you a lot of money, ultimately that's what's going to deliver the most value for you."
The key is to fail often but to fail cheaply and to fail quickly."
Related Internet Links
The BBC is not responsible for the content of external sites.