Train commuters face rising fares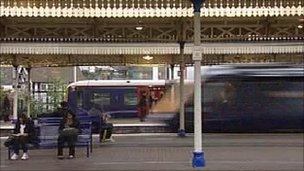 Commuters face paying hundreds of pounds more for their season tickets, while other travellers face "unlimited" increases, a cross-party Transport Select Committee has warned.
Railway insiders also warned of "severe overcrowding" on trains.
Billions of pounds must be saved from the transport budget as part of the the 20 October spending review, Transport Secretary Philip Hammond insists.
Rail users had to share the burden of dealing with the deficit, he said.
"We have a huge fiscal deficit to deal with, we have to get to grips with this problem, we're all in it together, we're all going to have to share in the pain," the Transport Secretary, Philip Hammond told BBC News.
"There is no group that is going to be able to avoid some of the consequences of the reductions in public spending that are necessary to deal with the deficit."
The government's transport budget is £15.9bn.
The Treasury has asked for two scenarios as part of the spending review - a budget cut of 25% or £4bn, and 40% or £6.4bn.
One way to help make those cuts would be to increase fares.
This would save the government money because of the way the railways are paid for.
Currently, roughly half is paid by the taxpayer, the other half by the fare payer.
So if fares go up, taxpayers have to pay less.
At the moment, most season tickets and long distance off peak fares are limited to rising by July's RPI inflation figure plus 1%.
That would mean a rise of 5.8% in January.
But it is a pretty sure bet that the government will scrap that arrangement, and fares will rise much faster.
"I'm concerned that fares could rise up to 10%, that some fares might not have any limit imposed on them at all," said the chair of the Transport Select Committee, Louise Ellman.
"People might find that peak hours of travel are changed so that they can't use cheap tickets in the way they used to."
In addition to higher fares, plans for 2,000 new carriages across the rail network are on hold.
That means big delays for both replacement trains and extra capacity.
Much of the rolling stock is already old, with some carriages using slam doors rather than electrically operated ones, and trains at times having covered more than five million miles.
This can cause passengers problems, as they sometimes do not understand how to open them.
One railway worker said she had to help a distressed older passenger leave the train, because he did not realise he had to lower the window and turn the handle from the outside to get off.
As we come out of the economic downturn, the Association of Train Operating Companies expects demand for rail travel to grow by around a quarter over the next five years.
That means a double whammy for passengers - paying more to be less comfortable.
"I think it's absolutely ridiculous," said Paul Fontaine, a commuter travelling to Paddington station in London.
"Why should I be paying for a ticket where I can't even sit down? They wouldn't treat animals like this."
"A lot of my wage goes on train anyway," she said.
"I pay as much on trains as I do on rent."
Related Internet Links
The BBC is not responsible for the content of external sites.