Thomas Cook and Co-operative Group merge store networks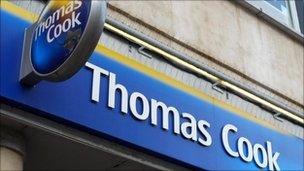 Thomas Cook and the Co-operative Group are to merge their High Street travel businesses to create the largest such network in the UK.
The move will bring together 1,204 stores, but both Thomas Cook and Co-operative Travel will retain their separate branding.
They will create a new joint subsidiary company to be 70%-owned by Thomas Cook, with 30% held by the Co-operative.
Thomas Cook admitted the deal may mean "hundreds" of job cuts.
"There may be some [store] closures but they will be very minimal," Thomas Cook chief executive Manny Fontenla-Novoa told BBC Radio 5 Live.
"Of course there will be some consolidation, of course there is some overlap."
The two firms currently have a combined workforce of about 9,000 across their existing shops.
Thomas Cook's online operation is not included in the merger with Co-operative Travel.
The merger will see the Co-operative Travel shops start to sell Thomas Cook products, which the two firms said in a joint statement would "provide significant opportunity to drive additional sales".
While the two businesses will retain their separate branding, 70 outlets of Thomas Cook subsidiary Going Places will take up the Co-operative Travel brand.
Thomas Cook and Co-operative Group said they hoped the merger would create annual savings of more than £35m across the two firms.
The coming together of the two travel shop networks will also create the UK's second-largest foreign currency exchange business.
Mr Fontenla-Novoa added: "Today's announcement, together with our plans to cut costs and streamline the rest of our UK business, will put us in a much stronger position, should market conditions in the UK remain weak, and will build a firm foundation for the future."
Related Internet Links
The BBC is not responsible for the content of external sites.