Manchester United reports pre-tax loss of £80m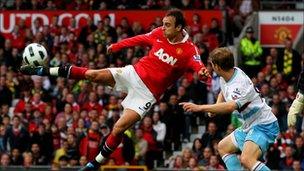 Manchester United, hit by one-off finance charges and reduced revenues from the sale of players, has reported an annual pre-tax loss of £79.6m.
The loss for the 12 months to 30 June compares with a profit of £48m for the year before, when revenues were boosted by the £80m sale of Cristiano Ronaldo.
The club's one-off finance charges during the past year totalled £67m. It also paid £40m in interest payments.
Chief executive David Gill said there was no pressure to sell players.
He added: "We have money in the bank so there is zero pressure on that, no pressure at all to sell any star player whether it is Wayne Rooney or X, Y or Z.
"I can categorically say that."
However, many fans are angry at the amount of interest the club is paying to service its debt.
"There is an underlying anger that has been there for some time and every time these results come out we see how much money is being wasted," said Duncan Drasdo, chief executive of the Manchester United Supporters Trust.
While Manchester United's match-day turnover fell, this was offset by commercial earnings.
The club's overall annual turnover increased to £286.4m.
Matchday turnover fell from £108.8m to £100.2m, which the club said was a result of it not progressing as far in the Uefa Champions League last season as it had in the season before.
In the 2009-10 season Manchester United made it to the quarter finals of the competition, while the season before they lost in the final to Barcelona.
Media turnover rose from £99.7m to £104.8m, thanks in part to higher TV payments from Uefa.
Commercial turnover increased from £69.9m to £81.4m, because of increased sponsorship revenues.
The £40m spent on interest payments was the same as a year earlier.
Operating profit - which does not include the cost of servicing the club's debts - also rose, reaching £100.8m, compared with £92m a year earlier.
The one-off finance charges are linked to Manchester United's £504m bond issue back in January, which enabled the club to pay back most of its bank debt.
While it has to pay a similar level of annual interest on the bonds, the move freed the club from the tougher financial conditions imposed by the banks.
Mr Gill added that club's latest accounts made "very good" reading.
However, he admitted that they were "complicated" by the one-off finance charges.
"I can't speak for any other club but the United fans should not be concerned," said Mr Gill.
"We have a long-term financing structure in place, excellent revenues that are growing, we are controlling our costs - total wages are 46% of turnover - and we can afford the interest on our long-term finance."
Manchester United was bought by the US-based Glazer family for £800m in 2005.
Critics say the family has saddled the club with massive debts, and this has led to protests by supporters' groups.
"It sickens people that they are paying increased ticket prices every season under the Glazers but the money is just being wasted and not invested in the playing squad," said Mr Drasdo.
Many fans are continuing to boycott the team's traditional red shirts and scarves, and instead wearing green and gold, the original colours of Newton Heath, the amateur side which was founded in 1878 and went on to become Manchester United.
A group of wealthy Manchester United supporters known as the Red Knights also proposed making a takeover bid.
However, they put their plans on hold in June, saying media speculation of "inflated valuation aspirations" had hampered their plans, and that they would only pay a sensible price for the club.
Officials at Manchester United have constantly reiterated that the club is not for sale, and that the Glazer family are not open to any offers.
Related Internet Links
The BBC is not responsible for the content of external sites.