The company behind Hungary's toxic spill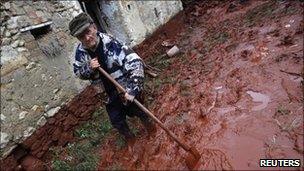 MAL Hungarian Aluminium, the company at the centre of Hungary's toxic spill, is owned by three of the country's richest individuals.
MAL chairman Lajos Tolnay is estimated to have a personal fortune of some 85m euros ($118m; £74m), making him the 21st richest person in Hungary, according to business daily Napi Gazdasag.
His two co-owners Arpad Bakonyi and Bela Petrusz are thought to be worth about 61m euros each.
The company itself posted a profit of 715,000 euros in 2008, on revenues of 157m euros.
Industry statistics say the Ajka plant, where the spill took place after a reservoir burst, ranks 53rd in world alumina production.
According to MAL, the Ajka plant began processing the ore bauxite in 1943. The bauxite is mined and treated to produce alumina - or aluminium oxide.
The firm was privatised in 1995 when Hungary began selling off state assets following the fall of communism.
It has three alumina facilities in Hungary, and also owns or has shares in alumina companies in Bosnia, Slovenia and Romania.
It also has an office in Germany "to enhance its market positions", according to its website.
Lajos Tolnay, chairman of MAL, has said that if the company were to stop operating 3,000 jobs would be lost.
The firm said it would release 110,000 euros in "rapid aid" to families caught up in the disaster, which has left seven people dead.
The final bill for the clean-up and compensation is unknown.
But the government estimate of "tens of millions of dollars" could be conservative, according to personal injury specialist Clive Garner from the law firm Irwin Mitchell.
"How much the company pays out will depend on their assets and the level of insurance they have," he told BBC News.
Mr Garner thinks the rapid aid fund given by MAL but distributed by the local administration is "pleasing but payment of just 360 euros to each family is an insult to those who have had to evacuate their homes and those injured".
There should be a further injection of funds and the Hungarian government may have to compensate victims in order to make sure "compensation payouts [are] sooner rather than later," he says.
Natural catastrophe or human error?
The issue of liability has yet to be determined.
The company has said the incident was a "natural catastrophe" and insists on its website that the red sludge is not considered toxic waste according to European Union safety standards.
But the Hungarian Prime Minister Viktor Orban has said that human error was "more than likely".
"The wall [of the reservoir] did not disintegrate in a minute. This should have been detected," he said.
Clive Garner says there are rules of strict liability in environmental cases like this.
"If you are responsible for storing toxic chemicals and they escape and cause damage, you are responsible and have to compensate those affected. End of story. The fact they've escaped is enough to prove strict liability."
However, MAL insists there was nothing it could have done differently to prevent the reservoir from failing.
Related Internet Links
The BBC is not responsible for the content of external sites.