Civil service unions deny deal with government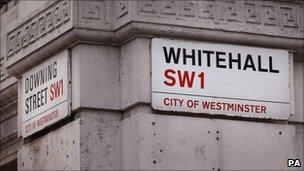 A number of leading civil service unions have attacked the government over claims of a deal on cutting the redundancy scheme for public workers.
Cabinet Minister Francis Maude said on Thursday that an agreement had been reached with five unions who were now set to consult their members.
But Unite said it had not backed the deal. The Prison Officers Association said it would not decide until Tuesday.
Mr Maude said he did not want to "pre-empt" the POA executive's decision.
POA general secretary Steve Gillan said Mr Maude's earlier comments were "outrageous".
He added: "I am absolutely appalled that Francis Maude has stated that the POA has reached these new terms with four other unions.
"The national executive of the the POA is not due to meet until next Tuesday, and it will only then be decided."
The other four unions Mr Maude said had agreed to the deal were Prospect, FDA, Unite and the GMB.
Mark Serwotka, general secretary of the largest civil service union, PCS, said Mr Maude should apologise.
He added: "People are being misled in an attempt, I think, to bully them into thinking they have to go, and they will go on reduced terms."
PCS is planning a fresh legal challenge to the cuts in the redundancy scheme, having successfully overturned in the courts in May an attempt by the previous government to reduce the terms of the scheme.
Unite's national officer Kevin Coyne said: "Unite has not backed the deal, neither have the other four unions.
"We are simply recommending this package as the best deal achievable by negotiation.
"It is up to our members now to decide if they wish to accept or reject this deal."
The GMB said talks had ended and it was advising its members that the deal on offer was the best that could be offered through negotiation.
National officer Brian Strutton, said: "It is members who will make the final decision whether to accept what is on offer."
Under the terms of the revised scheme proposed by the coalition government, permanent staff will see their payouts for compulsory redundancy capped at a maximum of 12 months' pay.
The government claims that under the present rules some civil servants are eligible for a package worth more than six years' pay.
The government also proposes reducing the notice period for dismissal from six months to three.
Related Internet Links
The BBC is not responsible for the content of external sites.