Crown Currency Exchange failure victims 'may lose out'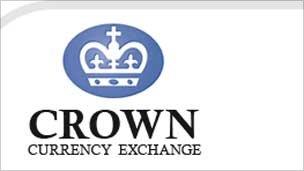 Customers of a collapsed Cornwall currency company have been warned they are likely to receive "very little" of their money back.
Some customers are owed over £100,000 by Crown Currency Exchange (CCE).
The company is believed to have about £3m in assets, while about £20m is owed to customers.
The firm's administrator Paul Clark from MCR says customers will probably have to wait six months before any money at all can be returned.
Crown Currency Exchange consistently topped the best buy tables for foreign cash and was unique in that it allowed you to buy your cash online up to a year in advance.
The deals were so good that some industry insiders have told Radio 4's Money Box programme the rates they offered were sometimes better than the spot rates the banks themselves use.
It was believed initially the biggest sums lost would be in the low thousands, but Louisa from Somerset was changing money with the firm in order to buy a house in Italy.
Last month Louisa and her husband paid the firm £110,000 to change into Euros.
The exchange rate was so good, they estimated they would get 10,000 euros more than if they had changed the money on the high street.
And Louisa didn't believe their money was at any sort of risk, as she told Money Box: "We're desperate, I think is a fair comment at the moment. They should only be able to do that amount of money if they were properly set up."
In Louisa's case, she approached Crown but the firm was also pro-actively contacting past customers by phone and e-mail to entice them into parting with their cash, right up to when it collapsed.
Crown told these people that they had contracts for other customers which had been cancelled, so in order to unload this unwanted cash they could offer them a fantastic exchange rate.
Jo from Yorkshire is one of those who was tempted by the offer and paid over £1,500 to buy euros last month:
"Most of us customers believed we were having currency that they already had. It's certainly impllied by the e-mails being received."
Paul Clark from the joint administrators MCR understands that this technique was widely used by the firm but has found no evidence of cancelled currency contracts:
"As far as we can tell the company has never had any forward orders of currency nor has it had many, if any, cancellations."
He believes customers like Jo and Louisa have little chance of getting much of their money back, on the basis of the assets which have so far been found:
"There are unlikely to be any payments until six months' time and at the moment the indications are they would be very little. Less than three million out of twenty, unless there are recoveries that swell the three million figure."
Edward James was a co-director of Crown Currency Exchange until December last year.
He said he was "distraught" over the collapse but he believed the firm had had sufficient capital.
He admitted they had discussed keeping client money in separate accounts, but they had not actually done so.
He said he had no idea where the money had gone but the directors had not taken out substantial sums.
Crown Currency Exchange was registered with the Financial Services Authority, but as the FSA classfied it as a Small Payment Institution it was not required to be authorised, and so did not have to hold separate accounts for client money.
Some Authorised Payment Insitutions which are obliged to do this had raised concerns to both HMRC and the FSA about CCE before its collapse, but say no action was taken as neither body had the regulatory powers necessary.
Robin Haynes is the managing director of Currency Index which specialises in currency exchange and transfer:
"There's certainly been a regulation gap that's been exposed here. It's down to the Treasury to make that change."
However a spokesperson from the Treasury said:
"Crown Currency Exchange's business model was exceptional - it involved taking forward exchange risks. It would not be appropriate to crack down on the vast majority of currency exchanges that do not take such forward exchange risks. "
BBC Radio 4's Money Box is broadcast on Saturdays at 1200 BST, and repeated on Sundays at 2100 BST.
Related Internet Links
The BBC is not responsible for the content of external sites.