UK Euromillions ticket wins a record £113m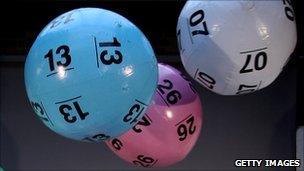 A ticket bought in the UK has won a record £113m (129m euros) on the Euromillions lottery draw, according to UK operator Camelot.
Camelot said the jackpot win represents the biggest single lottery win in UK history, but it is not known yet if the winner is an individual or a syndicate.
The previous record lottery win in the UK was £84.4m, won by an anonymous ticket-holder on Euromillions in May.
Before Friday's draw, a technical problem hit UK online ticket sales.
Connection problems between Camelot's system and some banks meant sales could not go through between 1845 and 1915 BST, a Camelot spokeswoman said.
She apologised saying Camelot did not know how many people had been affected by the glitch and added the matter had been "completely out of our hands".
"The fault was not with the National Lottery website, but, due to unprecedented demand, there was an issue with the response times between our website and the online banking systems."
The Euromillions numbers were 9, 30, 35, 39, 46, with lucky stars 6 and 8.
In announcing the win for the UK ticket, Camelot said: "This is fantastic news; we're absolutely delighted to have such a massive UK win.
"This is the biggest lottery jackpot prize ever paid out to an individual in this country. We have plenty of champagne on ice and are looking forward to welcoming the lucky ticket-holder to the National Lottery millionaires' club."
The ticket-holder will immediately become the 589th wealthiest person in Britain, according to the Sunday Times Rich List 2010.
Their wealth will eclipse the likes of pop stars Barry and Robin Gibb of the Bee Gees, who are said to be worth £110m, Phil Collins, who has a fortune of £108m, Rod Stewart at £105m and David Bowie, who has an estimated £100m to his name.
About 2,400 lottery millionaires have been created in the UK since the National Lottery launched in 1994.
Tickets for Euromillions are sold in nine countries - the UK, France, Spain, Austria, Belgium, Luxembourg, the Irish Republic, Portugal and Switzerland - with ticket-holders in all those countries trying to win a share of the same jackpot each week.
Camelot is the operator for the competition in the UK.
Related Internet Links
The BBC is not responsible for the content of external sites.