Banks take on FSA over 'illegal' PPI rules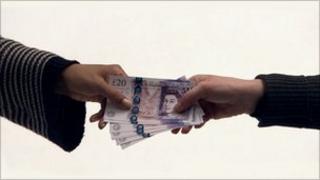 Banks fear new City watchdog rules on payment protection insurance (PPI) complaints could become widespread, their representative body has said.
The British Bankers Association said it feared "illegal and retrospective" rules could be used to cover the sales of other products.
On Friday, it asked the High Court for a judicial review of the new rules.
The Financial Services Authority (FSA) said it would "vigorously contest" the review.
'Can of worms'
After several years of investigation by the Office of Fair Trading, Competition Commission and the FSA, the regulator announced in August a firm crackdown on the way banks have been dealing with complaints about mis-sold PPI policies.
It stipulated, among other things, that banks and other lenders will have to review old complaints about the mis-selling of PPI.
To this end, it announced new rules that are due to come into force on 1 December.
They could result in more than 2.5 million people being refunded as much as £2.7bn in total.
But the BBA told the BBC the new rules could "open up a whole can of worms".
It said new rules that could be applied retrospectively were "illegal", hence the decision to file for a judicial review. Its main concern was that the rules could set a precedent, and then be applied to the sale of other products.
"If your house became a controlled parking zone overnight, you wouldn't expect to be fined for parking there yesterday," a spokesperson said.
The FSA has said it would contest the BBA's call for a judicial review.
"In the last five years, there have been more than a million complaints made to firms about PPI," the watchdog said.
"The FSA strongly believes that the package of new complaint-handling measures is a sensible and fair solution for consumers and industry alike."
Consumer groups said PPI policy holders considering a complaint should act fast.
"The good news about this challenge is that the FSA has decided to allow consumers to continue complaining," said Wendy Alcock at consumer website Moneysavingexpert.com.
"Consumers must take this chance to complain now while they still have the chance. If the banks were to unjustly win this review, the chances of getting compensation will be limited."
Increased complaints
The new rules were announced following a long campaign by consumer groups, such as Citizens Advice and Which?, that accused firms selling PPI of engaging in a widespread "protection racket".
It accused lenders and others of selling the insurance alongside loans when it was unnecessary, of not telling the borrower they were even paying for a policy, or of selling policies on which the borrower could not in fact claim.
There has been a dramatic increase in the number of PPI complaints in the past two to three years, alongside highly critical investigations by the Office of Fair Trading (OFT) and the Competition Commission.
But the FSA has said firms were turning down almost half of the PPI complaints they received, and that some had rejected nearly all their complaints.
About 30% of those people had turned to the Financial Ombudsman Service (FOS) for help, where about 80% of the complaints were then upheld.