UK business confidence 'falls to recession lows'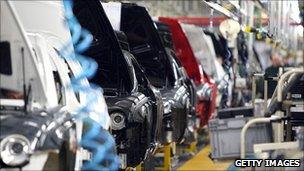 Business confidence among UK firms has fallen to its lowest level since the depths of the recession, a survey suggests.
The Business Trends optimism index from the accountants BDO fell to 91.6 last month, from 93.1 in August.
BDO said this suggested the economy could stop growing early next year, and begin to contract between April and June.
BDO also called on the Bank of England to pump more money into the economy.
The Bank has already spent about £200bn on trying to boost the supply of money to stimulate the economy.
There are growing calls for it to expand this quantitative easing programme, not least from Adam Posen, an external member of the monetary policy committee.
Some economists believe that more stimulus measures are needed to counteract the upcoming government spending cuts, designed to reduce the country's budget deficit.
"We are worried that it is already beginning to look as if the government's growth figures don't stack up," said Peter Hemmington, partner at BDO.
"The balance of risks has clearly changed since the election and the chancellor would be wise to consider whether he can go slower than planned with [the spending] cuts."
The Bank should inject another £50bn into the economy before the end of the year, Mr Hemmington added.
BDO's indexes of output and employment also fell in September.
BDO's survey of surveys is compiled by the Centre for Economics and Business Research and covers 11,000 companies from a range of industries.
Related Internet Links
The BBC is not responsible for the content of external sites.