RMT and Network Rail agree new pay deal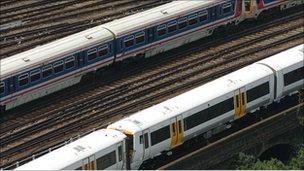 A dispute between the RMT and Network Rail that nearly resulted in strike action in the spring appears set to end after both parties agreed a pay deal.
The RMT said it would be recommending that its members accept the deal, which would give them a pay rise of about 7% in total between now and December 2011.
The maintenance workers would also receive a £2,000 lump sum by Christmas and the deal ruled out any compulsory redundancies before 2012.
Network Rail welcomed the agreement.
A pay deal offering inflation plus 0.5% had already been agreed by the two parties, but the new deal adds an additional 1% increase to basic pay, plus another 1% if productivity targets are met.
The dispute centred on plans to axe 1,500 maintenance jobs and change rosters to allow more work in the evenings and at weekends.
A spokesman for Network Rail said: "A positive vote [from RMT members]will allow us to make the changes needed to secure the future of all our people in the new maintenance organisation."
RMT general secretary Bob Crow said: "At a time when the doom-and-gloom merchants are telling working people that they must accept pay freezes, job cuts and a grim Christmas and New Year, our Network Rail maintenance members have shown that if you stand together in a strong trade union you can win."
He added: "The package our negotiators have secured on the back of a solid mandate for strike action from our members is a testament to the results that can be achieved by trade unionists who refuse to take a hit for the bankers crisis."
Related Internet Links
The BBC is not responsible for the content of external sites.