IMF talks show co-operation remains a challenge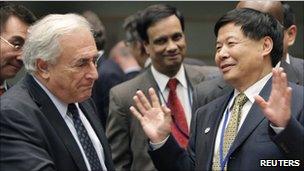 The annual meetings of the International Monetary Fund and the World Bank were overshadowed by the tension over currency policies and by a very unbalanced recovery in the global economy.
The divisions apparent here mean there is a challenging agenda for the G20 leaders' summit in Seoul in South Korea next month.
The IMF's Managing Director, Dominique Strauss-Kahn, has repeatedly called for co-operation in tackling the world's economic problems and he will be making that argument again at the summit.
It is hard to be against co-operation. But achieving it will be a challenge.
Take the currency problem. In the United States, China is widely seen as the villain, maintaining its currency at an artificially low level and gaining an unfair competitive advantage.
The pressure for reform has been applied to Chinese officials again here over the last few days. But still they say they will reform gradually.
They never put a time scale on that. But it surely means years before they get to a market-determined currency, much too long for American tastes.
There is a currency problem for developing countries more widely.
Very low interest rates in the US and Europe mean investors are looking for better returns elsewhere. They can find what they are looking for in developing countries, which are recovering more strongly from the global recession.
But the result is upward pressure on their currencies. China has resisted by intervening in the markets. Others have tried too, but with limited success.
So here we have a problem in emerging economies caused, at least partly, by rich countries doing things intended to tackle their own sluggish economic performance.
And there is increasing talk of rich country central banks doing more - an unconventional policy sometimes called quantitative easing - which would probably aggravate the effect on emerging economies' currencies.
Philip Suttle, of the Institute of International Finance (IFF), and a bankers' group that meet a few blocks away from the IMF, had a very blunt message those emerging countries: "Get used to stronger exchange rates".
He stressed that people were now living in a different world.
"The mature economies' fortunes are looking not so good," Mr Suttle said, adding that those of emerging economies look "materially better than they did on the eve of the crisis".
That means stronger currencies and if you try to resist, he said, "you are going to fail".
Financial regulation is another area where co-operation is important.
There has already been an agreement on rules to force banks to have bigger financial buffers to protect them from losses.
At the IFF, Peter Sands of Standard Chartered Bank described the rules as "a truly international response and in that sense a remarkable achievement".
But he expressed concerns about uncoordinated action and fragmentation.
The bankers also had wider concerns about financial regulation: that it might slow economic recovery by making it more costly for banks to provide credit.
It is easy to talk about international co-operation and the G20 summit will have a go. Pulling it off is proving to be quite a challenge.
Related Internet Links
The BBC is not responsible for the content of external sites.