Easyjet and Sir Stelios end row over brand rights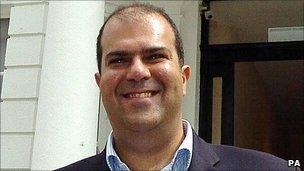 Low-cost airline Easyjet has struck a deal that ends its long-running row over brand rights with its founder, Sir Stelios Haji-Ioannou.
The dispute, over restrictions on non-ticket revenues, could have led to the airline losing its right to use the "Easy" brand.
The no-frills carrier has agreed a package for Sir Stelios which will guarantee him £3.9m in the first year.
In return, it gains the freedom to make more money from non-airline services.
These are likely to include commission from hotel rooms and car hire bought via its website.
In the past, profits from non-airline related activities were limited to 25% of total earnings.
The two sides went to the High Court in June to try to settle the degree of profits that Easyjet could make from non-airline business.
This agreement avoids a potentially long-drawn out court case.
Sir Stelios - who, along with his family, owns about 37% of the airline - has also scrapped a clause that previously allowed him to step in as chairman.
The new agreement will see Sir Stelios receive 0.25% of the airline's revenues each year, fixed at £3.9m and £4.95m for the first two years, plus another £300,000 annually.
He described the agreement as a "win-win for all concerned".
Easyjet's chairman, Sir Mike Rake, said: "I'd like to thank Sir Stelios for his constructive approach to our discussions over the past week."
Previously, Sir Stelios had bitterly attacked the airline board's management strategy.
Earlier this year, he criticised the company's share price progress over the past 10 years and lack of dividends.
Related Internet Links
The BBC is not responsible for the content of external sites.