House prices heading for a fall, surveyors warn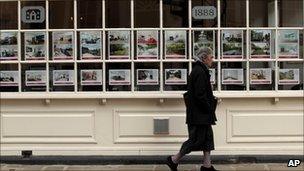 House prices are still under downward pressure as sellers outnumber potential buyers, surveys suggest.
The Royal Institution of Chartered Surveyors (Rics) said 44% of its members had seen prices fall in the past three months.
Only 6% reported that prices had risen, while 50% said they had been stable.
Meanwhile, figures from the Council of Mortgage Lenders showed that the number of home loans approved for house purchases in August had fallen by 8%.
The CML's figures showed that 51,600 mortgages were approved last month. Although this was down 8% on the previous month, it was still slightly higher (up 3%) on the same period the previous year.
The figures from Rics highlight the picture painted by other recent surveys which have indicated that prices have drifted down in recent months, although new data from the government. also released on Tuesday, found prices had risen by 0.7% in August from the month before.
Rics spokesperson Ian Perry said it was "very much" a buyers' market.
"First-time buyers are in particularly short supply as the high deposits required by lenders prevent them from taking their first steps on the property ladder," he said.
"Without sufficient demand, property prices continue to slip back.
"However, many areas are reporting a correction, rather than dramatic falls in prices, and vendors who are prepared to be realistic with pricing are still able to achieve a sale."
The Rics survey covered only 265 members who work as estate agents.
But the survey traditionally has its finger on the pulse of the market.
Several respondents pointed to the forthcoming cuts in public spending for undermining the confidence of potential buyers.
"The overall trend is edging towards reductions in property prices, as buyers become increasingly nervous of the economic climate," said Edward Waterson of Carter Jonas in York.
Derek Coates of Venmore in Liverpool was more forthright.
"Government austerity measures coupled with fears of unemployment and a genuine fear that house prices may well fall further is stifling the market," he said.
Other surveyors pointed to the continued effect of widespread mortgage rationing by lenders.
"The real problem in the market is first-time buyers' inability to obtain mortgages, thus putting a brake on their ambitions to own property," said Stuart Allan of Broadley & Coulson in Bishop Auckland.
This was backed up by the figures from the CML which showed that lenders advanced 18,300 loans to first-time buyers.
This was 5% down on the previous month and a 3% fall compared with August 2009. However, the typical deposit they have to put down has eased from 24% in July to 21% in August.
Tight credit conditions mean that remortgaging accounted for only 25% of loans advanced in August - the lowest proportion for 10 years. There was also "little incentive for borrowers" to move away from deals with low interest rates.
"August is a traditionally slow month for mortgage lending and it was no different this year. We expect a quiet market to continue for the foreseeable future," said CML director general Michael Coogan.
"With some uncertainty surrounding future house price trends, we would expect a muted market in the next few years. The problem of excess capital, that led to record lending and borrowing in 2007, has self-corrected and will not return."
The availability of land is a key factor in changes to house prices, separate work by researchers at the London School of Economics has found.
Those saving up to buy a house in areas where residential developments were restricted needed larger down-payments relative to their income, the report said.
These people ended up having to save up for longer and bought a home later in life. They might also face higher rental prices in the meantime.
"The research illustrates how constraints on the supply of land can have major implications for household welfare through their effect on house prices and individual home ownership," said Dr Alex Michaelides, who led the research.
The report suggested that relaxing borrowing restraints added to ownership levels, but had little impact on house prices.
The work was funded by the Economic and Social Research Council, which is primarily funded by the Department for Business.
The government's own house price index, also published on Tuesday, showed a slight rise of 0.7% in UK house prices in August compared with July.
The value of the average home stood at £213,116 in August, according to the Department of Communities and Local Government.
This was 8.3% higher than a year earlier, driven by a 9.3% annual rise in prices in England, and a 9% increase in Wales. In Scotland, prices were up 0.4% year-on-year, but they were down 18.8% in Northern Ireland.
In England, London, the East, the South East and the South West all recorded house prices above the average property value in August.
Related Internet Links
The BBC is not responsible for the content of external sites.