Car insurance costs rise by new record, says AA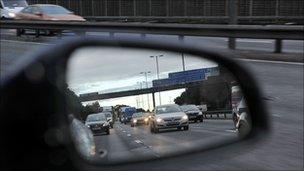 The AA has recorded the biggest jump in the cost of car insurance since it started tracking the market, with young people bearing the brunt of the rise.
Figures due to be published this week show premiums for 17 to 22-year-olds have risen by 47% in a year.
Young male drivers are paying the most, with the average of the three cheapest quotes they get being £2,457.
That is nearly double the premiums offered to young women, the motoring group said.
The insurance costs are being blamed on another surge in claims for injuries sustained in accidents.
"If you have an accident which leaves someone disabled, the claim can be up to £15m," said Simon Douglas, director of insurance at the AA.
"Young men are twice as likely to be involved in these incidents than young women."
The impact of the rises is to make driving unaffordable for some young drivers and a huge burden for those who can gather the cash.
Ryan Bird, a 20-year-old heating engineer from Middlesex, told the BBC that he was paying £2,100 a year to insure an old Ford Fiesta worth £700.
"It is daylight robbery," he said.
"People I know cannot afford it. They can run a car but it is the price of insurance which knocks them back."
A search on a comparison website can be a major letdown for 17-year-olds who have just passed their driving test. It is common for quotes as high as £12,000 to show up as the least expensive option.
"It was such a shock," said Ryan, who has been driving for three years.
"I went on both the price comparison sites that advertise on TV and one of them quoted me over £6,000."
Drivers have little chance of finding an affordable quote, unless they put a huge effort into shopping around. Some insurers have pulled out of the young end of the market entirely, because of losses.
The AA blames lawyers for exacerbating the problem by taking a 40% cut of personal injury claims.
"The number of claims is increasing and the number of passengers involved is increasing," said Mr Douglas, of the AA.
"Some of that is being driven by no-win, no-fee lawyers. Their numbers have doubled in the last two years."
The AA started compiling an index on car insurance rates 16 years ago. These are the sharpest rises it has seen since then, with premiums accelerating to new highs.
BBC News website readers have been sending us their thoughts on this story. Here is a selection of their comments.
Related Internet Links
The BBC is not responsible for the content of external sites.