UK economic growth slowing, surveys suggest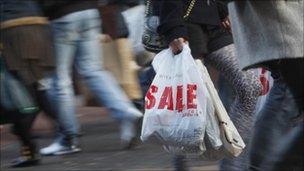 Growth in the UK economy is slowing, with the service sector particularly affected, two surveys have suggested.
A report from the British Chambers of Commerce (BCC) said economic growth in the third quarter was "considerably" slower than the previous quarter.
The BCC warned businesses faced serious challenges in the coming months.
The British Retail Consortium (BRC) said retail sales growth slowed last month, with like-for-like sales up 0.5% from a year ago.
This was half the 1% growth rate the monthly BRC survey reported for August.
Stephen Robertson, director general of the BRC, said there was little indication so far that shoppers were bringing forward expensive purchases to beat January's rise in VAT from 17.5% to 20%.
The BCC survey found that the service sector was struggling.
"The dismal performance of the service sector is particularly disturbing, since it occurs even before VAT is due to rise to 20%," said David Kern, the BCC's chief economist.
He said a new recession could be avoided, but interest rates needed to be kept at their current record low levels.
The BCC also said that the Bank of England's Monetary Policy Committee (MPC) should look hard at whether a new round of quantitative easing (QE) was needed to release money into the economy to stave off the impact of the coming government spending cuts.
"The MPC should seriously consider increasing the quantitative easing programme to £250bn (from £200bn) before the end of 2010 to enhance the economy's ability to cope," Mr Kern said.
The BRC said consumers were cutting back on expensive purchases, such as fitted kitchens and bathrooms, and other items of household furniture.
It added that for the wider three months from July to September, sales of non-food goods were down 0.4% from a year earlier.
Food sales were up 2.1%, also from 12 months previously.
Mr Robertson cautioned that the growth in food sales was being exaggerated by high food inflation, which currently stands at about 4%.
"Sales growth continues to be poor," he said.
The BRC said consumer confidence was "fragile" ahead of the government's spending review.
"We've now had six straight months of low growth thanks to persistently weak consumer confidence and worries about the future," Mr Robertson said.
"It's clear people are cautious and major spending is largely on hold."
The government is due to outline its four-year spending review on 20 October, and is expected to announce substantial spending cuts as it continues to seek to reduce the UK's public deficit.
Related Internet Links
The BBC is not responsible for the content of external sites.