Indian industrial output growth slows to 15-month low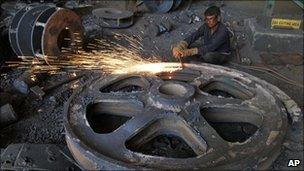 India's industrial output grew 5.6% year-on-year in August, its slowest rate for 15 months, as capital goods output shrank during the month.
The growth figure marked a decline from the revised 15.2% increase seen in July, government figures showed.
Output of capital goods, which includes everything from heavy machinery to cabling, contracted 2.6% in August after growing a revised 72% in July.
The sector's volatility has led some to question the reliability of the data.
"It's difficult to extract a trend out of this volatile component, particularly when it's driving the headline number to sharp swings," said Shubhada Rao, chief economist at Yes Bank in Mumbai.
"Last month there were just two or three items which drove growth, like insulated cables and wires, which grew 700%," she said.
"I think either the weightages need to be re-examined or the data collection needs to improve."
The overall growth figure was much lower than expected. Analysts had forecast growth of 9.9%.
Related Internet Links
The BBC is not responsible for the content of external sites.