Shetland faces the end of the oil splurge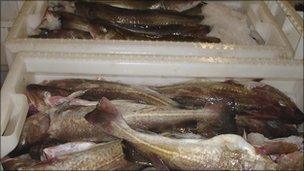 It is 5.30am in the chiller warehouses in Lerwick port.
In it is box after box of shimmering fish landed just hours before. As well as haddock, cod, whiting and coley there is a 36kg halibut, and a 49kg monkfish worth £200.
Fish buyer Earl Anderson is inspecting the catch.
"It's very good quality because 90% of our boats never fish for more than five days," he says.
"Quite a lot of our boats only fish two or three days. Some of the fish on this market is here within 24 hours."
Shrinking quotas have hurt, but the industry here is well placed for the fight.
Shetland is bang in the middle of prime fishing grounds so fuel costs are low and fresh fish get higher prices.
Later, at 8.30am, in the upstairs auction room, technology complements this natural bounty.
This state of the art electronic system has attracted buyers and boats. Twice as much white fish is landed now compared with 2003 when it was introduced.
The seabed has also been kind to Shetland.
In the 1970s, island authorities negotiated a juicy compensation deal after the building of the huge Sullom Voe oil and gas terminal, serving the North Sea oil fields.
Those revenues have provided some £500m in spending money for the council, and also led to the creation of an independent £200m rainy day fund called the Charitable Trust.
The closest thing in the UK to a sovereign wealth fund, it invests in property, energy projects, the arts, fish processing plants - things other authorities could only dream of.
There are eight swimming pools for 22,000 people, networks of local social care hubs that look after the vulnerable young and old.
There are 34 schools, at least one with more staff than pupils.
However, accusations of "waste" and "excess" are commonplace. At £11.5m, the price tag for a new cultural centre is controversial. As is the £50m bill for a new school in town.
This summer auditors from the Scottish government expressed "serious concerns" about financial management, also questioning the blurred borders between the council oil reserve fund and council operations. The council's accounts rarely get signed off.
One former local politician, Barbara Cheyne, says the spending splurge has to stop.
"When the money is not there you have to trim your cloth accordingly and that is the situation we are in right now," she says.
"I got electricity when I was seven, I grew up with no running water, but things moved on as it did for everyone.
"Now we have [gone from] one extreme to the other. Now the pendulum has swung a bit far, and perhaps now is the time to come back to reality."
The council, now with a new boss imported from Orkney, is trying to balance the books. The education budget is one area it is targetting.
On a blustery, dark evening, parents pack out a hall in Scalloway - a fishing port on the other side of the mainland.
The small town has its own secondary school, which the council wants to close.
It is just a few miles from Lerwick, which has one too. And the council thinks kids could easily go there instead.
Karen Eunson, vice chair of Scalloway Parent Council, says money should not be the primary concern.
This is part of a legal process, the Schools Consultation Scotland Act, and there is a requirement that educational benefit has to be proved before they can go ahead with a school closure.
The trouble is the school gets excellent results.
Gold plated state run services are painful to cut. And some jobs will inevitably have to go with central if not local public sector cuts.
But if Shetland got lucky with oil 40 years ago, it is about to do so again with gas.
French energy giant Total is developing a £2.5bn field in the seas west of Shetland.
"If you were trying to plan a time when you could make efficiency savings this would be it," says the council's business development manager Douglas Irvine.
He says the Total development "will mean a demand for hundreds if not thousands of jobs over the next few years".
"Hopefully anybody who finds themselves out of work in the public sector will find employment in the oil industry."
Shetland is not on the national grid, and broadband links are very patchy.
It relies heavily on two industries - fishing and hydrocarbons - that both have potential shelf lives.
But new industries and opportunities always seem to crop up here. For Shetlanders, their luck rarely seems to run out.
Related Internet Links
The BBC is not responsible for the content of external sites.