Thousands reclaim lost pensions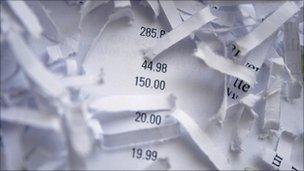 Lump sums of more than £20,000 have been returned to people who have lost track of their pension provision.
More than 350,000 people have used the government's free Pension Tracing Service to find money invested in workplace and personal schemes.
On average, this has resulted in weekly payments of £16 or a lump sum of £1,900.
Meanwhile, the state of the UK's final-salary private sector pension funds has improved in the last month.
Figures from the Pension Protection Fund (PPF) showed that the 6,653 schemes measured in its index had collectively shifted to a deficit of £20.4bn by the end of September.
This was an improvement from a deficit of £53.5bn at the end of August. In July they had recorded a small surplus of £7bn, but the figure has been in deficit for most of the last two years.
Thousands of people have used the Pension Tracing Service since it was set up by the Department for Work and Pensions in 2005. This included 83,000 requests in 2009-10.
The system uses a database of information from 200,000 pension schemes to match people to their previous investments.
A survey of 2,000 users of the service found that, as a result, 5% received weekly payments of more than £100 and 7% got a lump sum of more than £20,000.
Some 68% had lost track of these pensions after moving on from an employer. Other reasons included moving house, employers changing name or closing down, and people losing the paperwork.
"People need to make sure they are claiming everything they are entitled to in retirement," said Pensions Minister Steve Webb.
Related Internet Links
The BBC is not responsible for the content of external sites.