UK trade deficit narrows slightly in August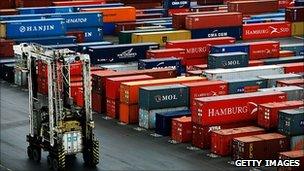 The UK's trade deficit improved slightly in August after hitting a five-year high in July.
The deficit in goods and services was £4.6bn last month, narrowing from £5bn the month before, the Office for National Statistics said.
The deficit on trade in goods was £8.2bn, from £8.7bn in July, but there was a services surplus of £3.6bn, against £3.7bn in July.
Analysts said that the figures reveal the UK's lacklustre export performance.
Total exports fell by 2.1% in August, after dipping 1% in July. Exports to non-European Union countries fell by 4.9% in August, the ONS said.
Howard Archer, chief economist at IHS Global Insight, said: "The UK's export performance so far in 2010 has been lacklustre and largely disappointing, give the past sharp depreciation of the pound and improved global growth and trade.
"Furthermore, there is a serious risk that UK exports will be hit increasingly over the coming months by slowing global growth," he said.
Meanwhile, David Kern, chief economist at the British Chambers of Commerce (BCC), said: "These figures are mixed and in line with expectations.
"It is disappointing that exports fell slightly, but imports fell even more, and overall the result was an improvement in the net trade position," he said.
Related Internet Links
The BBC is not responsible for the content of external sites.