Emerging rivals threaten Facebook's dominance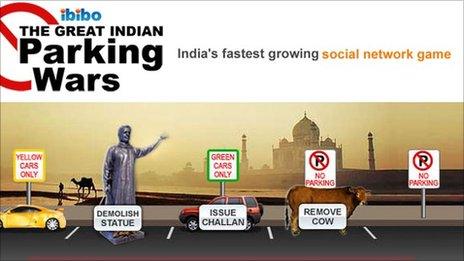 Facebook may have 500 million friends, but it also has many, many rivals - including some huge ones in some of the world's largest and fastest growing economies.
"When we looked at setting up the platform, we looked at ways of enabling people to form relationships," says Ashish Kashyap, chief executive of Ibibo, one of the Indian challengers to Facebook's throne.
"Social gaming is a great way to do that."
Those games include "The Great Indian Parking Wars", where users collect points by parking "legally or illegally" and - in a very local touch - removing idle cows.
Like its homebase of Gurgaon, which has turned from a village near Delhi to a shining new city in a matter of years, Ibibo has come seemingly out of nowhere.
Since it was set up in January 2007, Ibibo has massed 3.7 million users, making it the largest locally-based social network in India.
They have no plans to expand abroad. "We are totally focused on the Indian market," Mr Kashyap says. "It's the foundation."
While all the hype in the West is on the social networking giants such as Facebook and Twitter, consumers of some of the world's fastest growing economies are embracing local champions.
"The success of Facebook is a tribute to the dominance of the English language, and perhaps American culture," says Grant Blank, who studies the social and cultural implications of the web at the University of Oxford's Internet Institute.
"But there are limits to that. There really are local differences."
The most visited internet portal in China is owned, not by a US giant or a Chinese government-owned site, but by what was a start-up only a decade ago - Tencent.
Its hugely-popular QQ instant messenging service has about 569 million active users, an increase of 39% from last year, while its social network QZone has 50 million users.
By contrast, AOL's popular AIM messenging service has 25 million monthly visitors in the US.
Investors are also enthralled with the firm. Shares in Hong Kong surged 237% last year and recently touched a record.
Tencent is based in Shenzhen, a coastal city near Hong Kong that was the first to be made a Special Economic Zone by China in 1980 - essentially a large experiment in capitalism.
Last month, President Hu Jintao came to Shenzhen to celebrate the 30th anniversary of the experiment - and promptly paid a visit to Tencent.
What was once an experiment is now a model for business development for the rest of China.
Apparently, according to the press release, Mr Hu was "smiling all over his face" when he was greeted with a grining avatar and the slogan "Hello, Motherland!" at their headquarters.
The leading lights of the internet economies in the developing world are also remarkably interlinked.
Tencent is 35% owned by Naspers, the South African media company.
Naspers and Tencent jointly own Ibibo.
"We have learned a lot about competing with global players from our partners," Mr Kashyap says. "India resembles some other markets five or six years ago."
Mr Kashyap himself was head of Google's operations in India before developing Ibibo.
Naspers and Tencent both have stakes in Russia's DST and Mail.ru - the most popular Russian instant messenger with more than 16 million people using it worldwide.
And DST has developed significant stakes in Facebook and in Zynga, the networks' biggest games developer behind games such as Farmville - of which Ibibo makes its own version, Ibibo Farms.
Both Russian firms are planning multi-billion-dollar share sales in London this year.
"Our approach has been to partner succesful local entrepreneurs in building out their operations," says Meloy Horn, Naspers's head of investor relations. "Given the cultural nuances unique to every country, we believe local mangement is crucial, especially in the media environment.
"We have no expatriates as CEO's of any of our international internet operations."
All these firms have a built-in support network of finance, technology and advice as they compete with their much bigger rivals.
The larger Western giants are not lying back in their efforts to dominate every market.
In July, Facebook overtook Google's Orkut to be the biggest social network in India and it opened a new office in Hyderabad. Seventy per cent of its users are outside the US.
Dr Blank notes it's harder for Arabic and Chinese-language sites to succeed in English as the "language gets embedded in subtle ways in the code".
"Before we invested in Tencent we lost money trying to run a Chinese ISP with expats, but luckily we quickly realised the mistake," says Ms Horn.
But by learning from each other, companies in developing countries are growing and adapting their tastes for local audiences.
"We believe emerging markets offer much better prospects compared to developed markets," Ms Horn says.
For example, one of Tencent's most successful experiments has been using its virtual currencies. Using Q-coins, users can buy weapons for online games and music and video.
Ibibo has learnt from its investor and recently adopted its own virtual currency scheme. Users can make micro-payments through premium text messages on their mobile phones.
"We were pleasantly surprised to see people using their mobile phones to buy virtual tractors, fertilisers, even mini-skirts," Mr Kashyap says.
"The network effect idea, where networks are more useful when they have more people, would suggest dominance by big global brands like Facebook," Dr Blank says.
"But to the extent that cultural differences matter, then local platforms matter."
One of Ibibo's most popular games is "Mumbai Underworld", where players can play gangster and build their own mafia empire.
Mr Kashyap draws a parallel between the appeal of his company and the huge demand for local blockbusters.
"Why do people watch a Bollywood movie rather than a Hollywood movie?" he asks.
"Because they can relate to it."
Related Internet Links
The BBC is not responsible for the content of external sites.