Will the change of mayor affect Moscow's huge economy?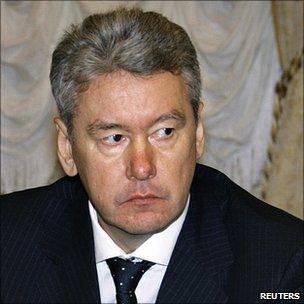 When an annual city budget exceeds $40bn (£25bn) and the city's status equals those of huge territories, investors cannot help but wonder what the first change of mayor in almost two decades could mean for them.
In Moscow, which was governed by charismatic and powerful Yuri Luzhkov for 18 years before he was sacked last month, new Mayor-to-be Sergei Sobyanin inherits a solid economy with many opportunities for further development, as well as a number of risks.
So far, many investors have shown that they are not about to panic, seeing the situation as a "big politics" development, rather than a sign of imminent changes to the rules and principles of doing business in the Russian capital.
But some experts warn that Moscow could potentially lose a chunk of its income and public contracts awarded in the property development sector and some other industries might be renegotiated under the new mayor.
Moscow is not only the capital of Russia, but also a so-called "constituent territory of the Russian Federation", which means that in terms of its status the city equals huge Russian regions, such as the Republic of Tatarstan.
Moscow's budget of about 1.3 trillion roubles ($43bn, £27bn) exceeds those of many countries, including Bulgaria, Latvia and Slovenia.
The city generates more than 20% of Russia's gross domestic product (GDP) and attracts a quarter of all foreign investment into the country.
In terms of where Moscow draws money, it also stands apart from other Russian regions.
Taxes form about 80% of the city's income, much more than anywhere else.
But as rates of almost all taxes are set by the federal government, Anton Nikitin, analysts at Russian investment bank Renaissance Capital, doubts that any new Moscow mayor would be able to increase the city's income.
On the contrary, there is a risk that some companies could try to become tax residents of other Russian regions, says Galina Kurlyandskaya, head of the Center for Fiscal Policy.
As a result, Moscow could lose a significant part of its income.
Also, under the current tax system, employees pay their income tax where their firm is registered, not where they actually live.
As many people come to work in Moscow and St Petersburg from other areas, changes to the system, proposed by some other regions, could also leave the cities without a portion of their income, says Ms Kurlyandskaya.
Thus, a lot will depend on whether the new mayor has enough political weight to maintain the current level of Moscow's vital tax income.
The previous Moscow government was often accused of corruption by its opponents, although the city's officials have always strongly denied such allegations.
The fact that Inteko, a company headed by the billionaire wife of Mr Luzhkov, has been a major player in the Moscow property development market and also won a number of city tenders in other sectors, did little to curb corruption rumours.
But Elena Baturina has always maintained that she never used her husband's mayoral status to gain an unfair business advantage.
Nevertheless, some market players do not exclude that the new Moscow administration could now revisit some of the property development contracts agreed under Mr Luzhkov.
Also, questions have been raised about road building projects in Moscow, as they are several times more expensive there than in other countries with similarly difficult climate conditions.
Ms Kurlyandskaya says that Moscow's budget has been very non-transparent and "it is highly unlikely" that the situation would get worse under the new mayor.
There is plenty at stake. The city's public procurement budget for 2011 stands at 293.5bn roubles.
Corruption is often seen as a major risk factor in public procurement deals.
Economic commentator Nikolai Vardul told the BBC Russian Service that he believed the change of mayor would reduce the level of corruption in the city.
"But the big question is whether the Moscow economy would become more effective [as a result]," Mr Vardul said.
The city's short-term business future is seen as stable and solid enough, according to investors. Indeed, the stock market did not move an inch when it was announced that Mr Luzhkov had lost "the trust of the president of the Russian Federation".
Rating agency Standard & Poor's confirmed Moscow's BBB credit rating, saying that it "continues to reflect the city's position as Russia's economic, administrative and financial center, as well as its diverse, service-based economy, with wealth levels well above the national average".
But it also added that if the city's fiscal policy was changed in future, the rating could be altered as well.
However, the new Moscow government will need to do more than just maintain Mr Luzhkov's economic and financial policies if it wants to earn extra points with Muscovites and investors.
The hospitality industry and some other sectors of the city's economy have been underdeveloped and have a lot of growth potential.
Also, a number of industries would benefit from more control being passed from the city to private investors.
"Moscow should now be developed in a new way," says Ms Kurlyandskaya.
"Otherwise, what was the point of such a radical change [sacking the mayor of 18 years]?"