Royal Mail privatisation bill unveiled by Vince Cable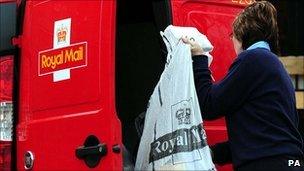 Business Secretary Vince Cable has said that private buyers will be allowed to own up to 90% of Royal Mail, while the Post Office may be mutualised.
He was giving details of the Postal Services Bill, designed to pave the way for Royal Mail's privatisation.
Mr Cable made clear that the government would not oppose a foreign company buying up the Royal Mail.
Royal Mail staff will be offered at least 10% of the shares in the company, but unions oppose the privatisation.
He called the proposed staff participation the biggest of its kind - larger than those of British Telecom, British Gas or British Airways.
The bulk of the assets and liabilities of the Royal Mail's pension fund - which now has an £8.4bn ($13.3bn) deficit - will be taken on by the government to relieve the business of making huge payments to make good the shortfall.
"It will give employees a stable company to work for, shares in the future of the business and the secure pension they deserve. It will remove the risk to taxpayers of an expensive bailout."
He gave no timeline for the sale, but said it would not happen before next summer.
He also said the government was "keeping an open mind" about whether to pursue a stock market flotation, or whether to sell the company to a strategic investor.
However, union leaders remain opposed to the privatisation plans.
The main postal workers' union, the CWU, says that privatisation of the Royal Mail would lead to higher prices for consumers and job losses for staff.
"I think the real issue [is], does the British public want the Royal Mail to be privatised," said CWU leader Billy Hayes. ""54% of Tory voters don't."
Back in March 2009 the pensions deficit had been estimated to be £10.3bn. The Royal Mail has 176,000 employees.
One of the biggest problems threatening the Royal Mail's finances has been the huge deficit in its pension scheme.
To solve this, the government will set up a new scheme funded by taxation.
This will pay all current pensions of former postmen and women and former Post Office staff.
Up to a cut-off date, which has yet to be decided, it will also take on responsibility for paying the accrued pensions of current employees who are in the scheme and deferred pensioners - staff who have left employment but have not yet draw their pensions.
In return, the government will take over most of the assets of the Royal Mail scheme and sell them over a period of time.
However, the scheme will continue in existence to provide pensions - but only for future service - for Post Office and Royal Mail staff who are still working and still paying into their fund.
This is expected to start off in financial balance after the separation takes place.
Since 2008, all new recruits to the Royal Mail and Post Office have been able to join only a defined contribution scheme, which will not be affected by these arrangements.
"It seems to me that the Post Office is ideally suited to a John Lewis or Co-operative Group style structure, where employees, sub-postmasters and communities get a greater say in how the company is run," he said.
John Lewis is owned by its employees, who are granted "partner" status and a stake in the company in order to encourage employee loyalty and service quality.
He said that the Co-operative UK had already been asked to put together a proposal for how mutualisation could be done.
"This would be the Big Society in action," added the Liberal Democrat, endorsing the Conservative party's slogan for greater community participation in government services.
However, the Co-operative's head - Ed Mayo - cautioned that building a membership-base and culture for mutual ownership would take time.
"For those who want to see a thriving network of post offices in communities across the UK, what we need now is patience, goodwill and open minds," added Mr Mayo.
Mr Cable said last month that he had come to his decision to privatise Royal Mail after an independent report said the postal service's outlook had worsened.
This review by Richard Hooper, a former deputy chairman of communications regulator Ofcom, concluded that the Royal Mail's universal postal service could only be maintained through an injection of private sector money and expertise.
"Royal Mail is in a difficult position," Mr Cable said after presenting the new bill.
"There is no hiding the facts - mail volumes falling, a multi-billion pound deficit, less efficiency than its competitors and an urgent need for more capital at a time when there are huge constraints on the public purse."
Related Internet Links
The BBC is not responsible for the content of external sites.