Fed looking at fresh move to stimulate the US economy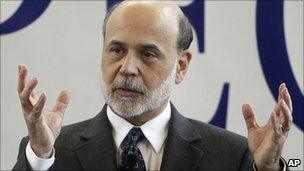 The US Federal Reserve has confirmed that it may have to carry out additional stimulus measures to boost the US economy "before long".
In released minutes of its most recent Federal Open Market Committee meeting, it said it was prepared to carry out such a move "if needed".
The central bank has not decided on what method it would use, but did talk of buying more government debt.
Continuing high US unemployment had led to pressure on the Fed to act.
Official figures show that the US economy lost a further 95,000 jobs in September, as public-sector cuts outpaced hiring by the private sector.
It was almost double the figure for August, when 54,000 jobs were lost.
The minutes of the Fed' s 21 September meeting said officials had a "sense that [more] accommodation may be appropriate before long".
They added: "Many members considered the recent and anticipated progress toward meeting the committee's mandate of maximum employment and price stability to be unsatisfactory."
Despite the increased likelihood of fresh stimulus measures, the Fed said it did not see the US economy slipping back into recession.
Many analysts said they now expected the Fed to announce new stimulus measures at its next meeting in November.
Since 2008 the Fed has spent $1.7tn (£1.08tn) on efforts to boost the US economy.
And US interest rates have been between 0% and 0.25% since December 2008.
Related Internet Links
The BBC is not responsible for the content of external sites.