China's trade surplus falls to $16.9bn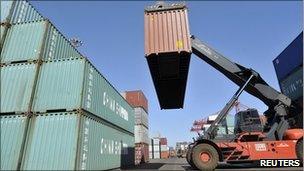 The gap between China's imports and exports narrowed in September, official data has shown.
But analysts say the decline is unlikely to ease the pressure on Beijing to strengthen its currency.
The US has been among its strongest critics, claiming China deliberately undervalues the yuan, boosting China's exports by making them cheap.
China's trade surplus fell to a five-month low of $16.9bn (£10.7bn), down from $20bn in August.
Exports rose 25.1% year-on-year in September to $145bn, but the pace of growth was slower than the 34.4% growth seen in August.
Imports rose 24.1% year-on-year to a record high of $128.1bn, compared with August's growth of 35.2%.
Despite the trade data, Brian Jackson, senior strategist at Royal Bank of Canada in Hong Kong, said that China would still be under pressure to let the yuan appreciate.
"I think the fact that their exports are still very strong suggests that there's plenty of scope for them to do more on the currency," he told the AFP news agency.
However, US Treasury Secretary Tim Geithner repeated his view that there would be no currency war, and the Chinese would allow the yuan to appreciate over time.
"We just want to make sure it's happening at a gradual but still significant rate," he said in an interview on US public service television.
The Chinese currency has gained 2.4% against the dollar since Beijing ended its fixed exchange rate in June.
The US cites its own trade balance with China as evidence that the yuan is undervalued.
The US and Europe have also emphasised the importance of a stronger yuan in rebalancing the global economy, increasing imports into developing economies like China.
The Chinese government has taken some steps to address its currency policy.
In June, China pledged to let the yuan trade more freely against the dollar. Since then it has advanced about 2% against the US currency.
But the US has pressed for China to do more to allow the yuan to appreciate.
The House of Representatives has backed a bill that treats undervalued currencies as illegal export subsidies, which could pave the way for trade sanctions on China.
Beijing has said it is "resolutely opposed" to the bill.
China's currency critics will also point to news that yuan reserves of the People's Bank of China have hit a new all-time high of $2.65tn.
That suggests investors are buying the yuan because they view it as undervalued and likely to rise in the future.