Spending cuts 'risk 1m UK jobs'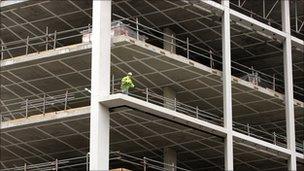 Almost one million jobs could be lost in the UK because of government cuts in public spending, a report suggests.
Accountancy firm PwC said that about 500,000 of those job losses may be in the private sector due to the impact on firms supplying the public sector.
Business services and construction would be among the industries hardest hit, it added.
The latest UK unemployment figures will be published later on Wednesday.
The PwC report put the total number of job losses arising form the public sector spending cuts - including knock-on effects in the private sector - at about 943,000.
And it said the output of private firms may fall by £46bn per year by 2014-15.
PwC chief economist John Hawksworth said the predicted levels of job losses would be a drag on the pace of the economic recovery "but should not derail it altogether".
He added that increased labour market flexibility - including people working fewer hours or for lower wages - may lead to fewer job losses.
The report said that in absolute terms, the areas worst hit would be the south east of England, the north west and Scotland.
But PwC added that in percentage terms, Northern Ireland would suffer most with one in every 20 jobs set to go.
A Treasury spokesman said "a decisive plan" was needed to "reduce the UK's unprecedented deficit and restore confidence in the UK economy".
"Not taking action to tackle this problem would put the economic recovery at risk," they added, saying this was a view shared by many organisations including the International Monetary Fund, the World Bank and the Bank of England.
Related Internet Links
The BBC is not responsible for the content of external sites.