UK unemployment falls to 2.45 million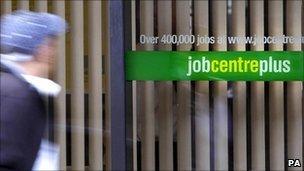 The number of people unemployed in the UK fell by 20,000 to 2.45 million in the three months to August.
This meant the overall UK unemployment rate fell to 7.7% from 7.8% the Office for National Statistics (ONS) said.
However, the figures also showed the claimant count - those out of work and receiving unemployment benefit - rose by 5,300 in September to 1.47 million.
Many economists fear unemployment will rise later in the year when government cuts begin to kick in.
A report by accountants PwC predicts that cuts in public sector spending will have the knock-on effect of about 500,000 job losses in the private sector.
But Work and Pensions Minister Chris Grayling said that reducing the deficit through spending cuts was the only way to secure long-term job opportunities.
"Unless business and unless investors internationally have confidence that Britain is sorting out its financial problems they won't invest here, they won't create the jobs we need, and that's the only way we can create sustainable, long-term employment," he told the BBC.
"Borrowing to create jobs isn't the way to create our future."
Within the UK, the jobless rate in Wales fell to 8.2% from 9.1%, in England it dropped to 7.7% from 7.8% and in Northern Ireland it fell to 7% from 7.1%.
However, in Scotland, the rate increased from 8.2% to 8.6%.
Across the UK, the number of people employed increased by 178,000 in the three months to August, the ONS said.
The ONS figures also showed that average earnings in August were 1.7% higher than a year ago.
The data provided further evidence that the labour market recovery was struggling - even before the public sector job cuts begin, said Vicky Redwood, senior economist at Capital Economics.
"The 5,300 rise in claimant count unemployment in September was the second monthly increase in a row and, although small, suggests that the trend has turned," she said.
"Admittedly, employment still rose strongly, but this was a smaller rise than in the previous couple of months and the more forward-looking employment surveys have by and large been weakening."
Meanwhile, Howard Archer, chief UK and European economist at IHS Global Insight, forecast that unemployment would peak at 2.85 million in the first half of 2012, with the unemployment rate reaching 9%.
Related Internet Links
The BBC is not responsible for the content of external sites.