Devolved spending adds another dimension to cuts debate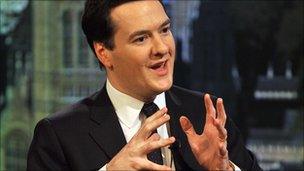 A fair amount of debate in the run-in to the spending review has focused on how much each department's budget might be cut.
The coalition government has made a pledge to "ring-fence" health spending - in other words, no cuts after allowing for inflation.
There is talk of education not being as hard hit as other departments, with cuts of 10% or less.
But these statements have no relevance to 16% of the population - the people of Scotland, Wales and Northern Ireland.
Those big-picture numbers bandied around for schools and hospitals relate to England only.
In Scotland, Wales and Northern Ireland, these areas of government are run by the devolved administrations.
Other devolved spending includes policing, culture, media and sport and much of the transport budget.
So how will the spending review numbers announced at Westminster feed through to Edinburgh, Cardiff and Belfast?
It's all down to the so called Barnett formula, invented by a former Labour minister in the 1970s, Joel Barnett.
This is aimed at ensuring that Scotland, Wales and Northern Ireland benefit proportionately from any spending changes announced at Westminster.
Under the formula, you take the increase or decrease in spending for each relevant Whitehall department and allocate a percentage of that to Scotland, Wales and Northern Ireland based on population.
Add them up and you get a lump sum for each administration.
Their ministers decide how to hand out the cash.
And, crucially, they can work out their own priorities.
So, for example, they could raise health spending more than England, but cut harder elsewhere.
The formula is as follows: change to the United Kingdom department's spending limit X comparability percentage X appropriate population proportion.
The comparability percentage covers the amount of departmental spending which is devolved. So, for example, the figure for schools is 100% (totally devolved), but lower for transport.
The population proportions (in relation to England's) are about 10% for Scotland, 6% for Wales and 3.5% for Northern Ireland.
Officials in Edinburgh, Cardiff and Northern Ireland will be busy with their calculators on the afternoon of 20 October.
They will use the Barnett formula to work out their overall spending totals.
It's possible that the headline numbers for real cuts will be relatively modest compared to some UK-wide departments which have not been ring-fenced.
Health is a big chunk of the devolved administrations' spending, so if it is protected at Westminster, that will underpin their overall budgets.
But then comes the hard part.
Ministers in Scotland, Wales and Northern Ireland will draw up their own budgets in the weeks after 20 October.
They are already under intense pressure to preserve spending on essential services.
Deciding where to make cuts will be a fraught process.
Unlike the coalition at Westminster, which is at the beginning of the parliamentary cycle, the devolved governments face elections next spring.
Spending decisions could dominate the campaigns.
There is another cause for concern.
Public sector job cuts could hit some parts of the UK harder than others.
Some 20% of the English workforce is in the public sector. But in Scotland it's 25%.
The figure is 27% in Wales, while in Northern Ireland, as many as 30% of the workforce are ultimately paid by the government.
So for politicians in Edinburgh, Cardiff and Northern Ireland, there is a lot riding on George Osborne's statement to the House of Commons next week.
The aftershock of that statement will be felt in differing ways around the United Kingdom.
Related Internet Links
The BBC is not responsible for the content of external sites.