South Korea keeps interest rates on hold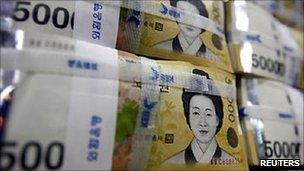 South Korea's central bank has kept interest rates on hold at 2.25% following its latest policy meeting.
The decision came as a surprise as most economists had expected an interest rate rise to 2.5%.
The Bank of Korea (BoK) had left the rate at a record low 2% for 17 months in response to the economic downturn, before raising it to 2.25% in July.
The bank said it was not the right time to be raising the cost of borrowing in what is Asia's fourth-largest economy.
"Looking ahead, there exists the possibility of the heightened volatility of economic activity and exchange rates in major countries acting as a risk factor for the global economy," said the BoK monetary policy committee, which is chaired by bank governor Kim Choong-soo.
It comes a week after Australia kept its main interest rate unchanged at 4.5% for the fifth consecutive month. However, the Bank of Japan cut its key rate to close to zero last week.
The International Monetary Fund recently raised its 2010 growth forecast for South Korea's economy to 6.1% from 5.75%.
But it also said that the rate of expansion would slow to 4.5% next year.
Related Internet Links
The BBC is not responsible for the content of external sites.