Selling James Bond's Aston Martin DB5
By Jorn Madslien
Business reporter, BBC News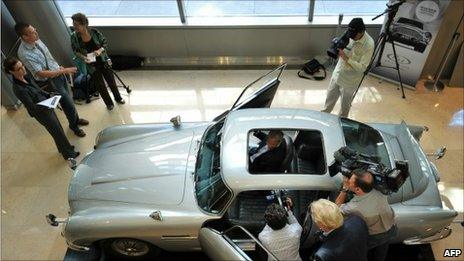 James Bond's gadget-packed 1964 Aston Martin DB5 - the one from Goldfinger and Thunderball - has fetched £2.6m ($4.1m) at a lavish car auction in London.
Pricier than the average classic car, for sure, but for auctioneer Max Girardo it will be nothing out of the ordinary.
There are millions of classic cars stashed away in dusty garages all over the world, but 90% of them are worth less than £30,000, Mr Girardo observes.
The ones that go under his hammer tend to cost a bit more, though.
During the last five years, Mr Girardo says he is behind the sale of four of the 10 most expensive cars yet to be sold at auction - including a Ferrari Testarossa that went for $12.4m (£7.9m) and Ferrari 250 GT California Spyder that fetched $10.9m.
"We have clients spending millions of pounds with us without even seeing the cars first," Max says.
Though he hastily adds: "I don't want you to buy a car because you can make a profit, I want you to buy it because you love it."
If there is one emotion Mr Girardo fully understands it is the love of the automobile.
Though he is only 33, he has already dealt in classic cars for 13 years, having joined the car auction house Brooks in 1997.
At the time, he was studying history of art in Geneva whilst holding down two jobs - in a pub and a petrol station - "to support the car habit".
At the time, his wheels were a classic VW Beetle and a Fiat Abarth "as an everyday drive".
His passion and ambition was greater than his motors, however.
That, combined with his international experience and language skills - he had already lived in seven countries and spoke four languages fluently - convinced Brooks that he was their man.
At the time, the auction house was tiny, employing just 15 people worldwide, with only three of them in Geneva.
But a couple of years after Mr Girardo joined, Brooks acquired the troubled, albeit venerable, auction house Bonhams, a move that catapulted both him and the firm into the big league.
Since then, the world of classic cars has become Mr Girardo's life.
In 2006, he started up the European operations of RM Auctions, the largest car auction house in the world.
So these days, his work involves inspecting private collections, such as the one held at Fiskens in London, in a large garage below a mews house around the corner from London's Royal Albert Hall.
Surrounded by half-a-dozen old cars, all worth more than £1m each, Mr Girardo tries to explain what it is all about.
"Clients say to us: 'If you see something you think I'll like, call me'," he says.
"And for sellers, space and maintenance are common problems, so they are often getting rid of highly prized cars to make space for new ones that sit well in their collections."
The middleman is the auctioneer, who is sitting pretty, creaming a few percentage points off either side, so it is an attractive business model, Mr Girardo agrees.
There are nevertheless no typical classic car types, Mr Girardo insists, which is partly why he considers his job so interesting.
"There are those who wear shirt and tie every day, and there are those who wear shorts and T-shirts to the office - though some never even have to go to work," he explains.
"There are self-made men and trust fund babies or those who have inherited. Some have just one classic, the one they always dreamt about, while others have a hundred."
High-end classic car buyers do have a couple of things in common, however. One, they all like cars. Two, they are all pretty wealthy.
But wealthy people are often spoilt for choice, so getting them to come to a car auction can be a challenge, Mr Girardo acknowledges.
Which is why Wednesday's auction in London, with its lavish staging and cocktail parties, cost a whopping £750,000 to arrange.
"We want to give people an experience," Mr Girardo says.
"We want to show them that it can be fun to own a classic, and it can be fun to buy one.
"And we do get impulse buyers. Oh yeah."
When Mr Girardo has time off, he heads off to relax.
To him, that might mean a trip to the Nurburgring in Germany, where he keeps a racing-specced Renault Clio that he shares with a couple of mates.
Or perhaps he heads to a classic car rally in Finland or Spain with his father and their two rally cars - a Fiat 131 Abarth and a Fiat 124 Abarth.
At home in London, he enjoys going out in his 1970s Porsche 911. In Geneva, he keeps his old Beetle and a Vespa scooter.
None of the cars in his life, whether those he owns or those he sells, have much to do with transport from A to B, however.
For that he prefers a bicycle.
Related Internet Links
The BBC is not responsible for the content of external sites.