Government should 'undertake widespread privatisations'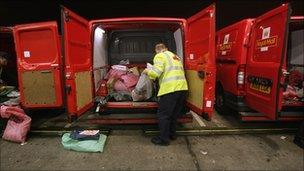 The coalition government should undertake "a radical new programme of privatisation", according to right-wing think tank the Adam Smith Institute.
It estimates the government could raise as much as £90bn if it sold its stakes in everything from Network Rail and the Royal Mint to Royal Bank of Scotland.
Its call comes two days after Business Secretary Vince Cable confirmed that the Royal Mail would be privatised.
The government has also pledged to sell its bank stakes when conditions allow.
In addition to its 83% stake in Royal Bank of Scotland, the government also owns 40% of Lloyds Banking Group and all of Northern Rock.
Other organisations that the Adam Smith Institute wants the government to privatise include Scottish Water, Trust Ports, Northern Ireland Water, the Met Office, the Student Loan Book, National Air Traffic Services, British Waterways, Channel 4 and BBC Worldwide - the BBC's commercial arm.
Nigel Hawkins, the report's author, said: "Privatising many of the companies discussed in my report will not be easy.
"But there is nevertheless a pressing need for the government to revisit privatisation, not just to raise very substantial proceeds - to the benefit of the UK's desperately stretched public finances - but also to streamline government and boost the private sector."
The institute's report comes as the government is preparing to publish its comprehensive spending review on 20 October. This is expected to unveil substantial public sector spending cuts as the government seeks to reduce the UK's public deficit.
Tom Clougherty, an executive director at the Adam Smith Institute, emphasised the importance of distinguishing between the public deficit and the public debt.
"There's the deficit which is the amount that we're borrowing in an ongoing sense and then there's the debt which is the money we've already borrowed.
"I think it would be very unwise to use an asset sale to finance ongoing spending, to try and deal with the deficit. It's really about repaying the principal that we're talking about here," he told BBC Radio 5 live's Wake Up To Money programme.
"So we want the money from these asset sales to be used to pay down the debt. The comprehensive spending review's going to deal with ongoing spending and that's really where we need to deal with the deficit."
Related Internet Links
The BBC is not responsible for the content of external sites.