Student debts squeeze mortgages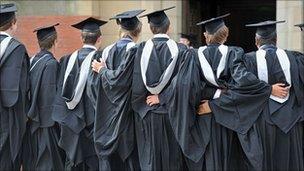 Growing student debts will reduce the mortgages available to first-time buyers or delay them getting on the property ladder, a broker has warned.
Many lenders consider potential borrowers' existing debts - including student loans - when deciding how much to advance for a house purchase.
Broker Aaron Strutt said many people were unaware that student borrowing now could affect buying a home later.
University tuition fees are set to rise following a review of funding.
When applying for a mortgage, most lenders will put applicants' financial details through an automated affordability calculator.
Bernard Clarke, of the Council of Mortgage Lenders (CML), said that it was up to the individual lender whether student debts would be included in these calculations.
As debt repayments could affect people's ability to pay back their mortgage, it was "likely" that such details would be included, he added.
The effect of this has been calculated by Aaron Strutt, a mortgage broker for Trinity Financial Group.
He worked out the effect now on a single person, earning a wage of £35,000. This person, if they were on the PAYE system, would have 9% deducted from his or her salary above £15,000 to pay off the student loan - irrespective of how much was borrowed - leading to payments of £150 a month.
Having looked at a range of different lenders, one bank would advance £28,560 less on a mortgage to somebody with this student debt than to somebody without it, Mr Strutt said.
The person with the debt would be able to get a mortgage of £139,440, compared with £168,000 for the person without the debt.
The smallest differential among the lenders he tested was £1,700. However, some banks only looked at student loans if the holder was self-employed, rather than on PAYE.
Last week, a major review of university funding by Lord Browne recommended that the cap on fees charged to students be scrapped.
This is likely to lead to higher repayments for graduates, especially those who become high earners. This could affect mortgage applications.
"Many students will not be aware that their loan will reduce the amount that they can borrow by such a large amount," Mr Strutt said.
"Many lenders now base the amount they will lend on an affordability calculation, which means that loans and credit card repayments are all taken into consideration.
"Higher debts will simply mean that it takes students longer to pay off their loan and that they will have to wait longer to get on the property ladder."
Recent figures from the Council of Mortgage Lenders (CML) showed that first-time buyers' share of the mortgage market was at its lowest for three years.
Related Internet Links
The BBC is not responsible for the content of external sites.