Infosys sees profits rebound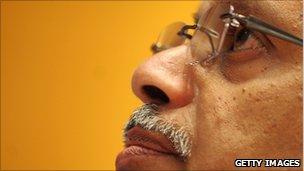 Indian IT outsourcing firm Infosys has reported strong profits and raised its revenue forecast, despite expressing fears over the strengthening rupee.
Profits for the three months to September beat expectations, at $374m (£233m), up from $317m a year ago.
The company also raised its revenue growth forecast to 21%-24%.
But Infosys remains nervous about the rupee, which has risen 7% against the dollar in the last six weeks, undercutting the competitiveness.
"The continued global economic uncertainty, coupled with extreme currency volatility, is a concern for the industry," said chief financial officer V. Balakrishnan.
Nonetheless, the Bangalore-based company has increased its hiring, taking on more than 7,500 employees during the three months, a 7% increase in its workforce and its fastest recruitment rate since 2007.
Infosys is India's second largest of India's big three IT firms, behind Tata Consultancy Services, and ahead of Wipro.
Related Internet Links
The BBC is not responsible for the content of external sites.