Coventry council wields spending axe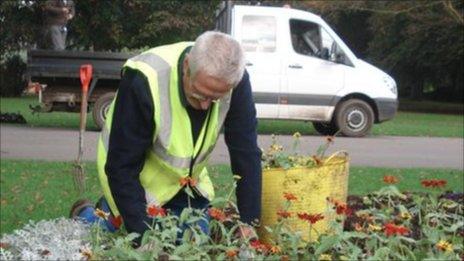 How can a council save £45m in one year?
That is the shortfall that Coventry City Council reckons it could be looking at for the next financial year.
Town halls up and down the UK are bracing themselves for big cuts in funding from Central Government, leaving them with unprecedented black holes in their budgets.
It means contemplating cuts to local services that would have been unthinkable before.
But what services should a local authority provide?
That is the question that the boss of one council says every local authority will have to ask itself in the coming months and years.
"We can't salami slice our way out of this," says Martin Reeves, chief executive of Coventry City Council.
"There is no way we can just take costs out and just trim all of our services - all that we'll do is reduce the quality of those services.
"The key for us is, let's do less and do it well. And part of that is saying in the new climate we have to stop doing things."
Mr Reeves is on a mission to change the way his council works so he can provide better value for money.
It started well before the financial crisis.
He is already driving down costs:
Savings? £500,000 next year.
Buying own computers instead of paying someone else for IT.
Fewer buildings, facilities and administration:
The council reckons it can easily save £10m during the next financial year by simply doing things better and more efficiently.
Trouble is, it has now got to go much further and faster to balance its books.
"There are going to have to be some tough decisions made, the likes of which we probably didn't think we'd have to make," says Mr Reeves.
"What we're going to be saying to the people is, what are your real priorities, what are the things that really matter to you?"
The council provides more than 700 different services.
So for ordinary people it is not easy to chose what kinds of services should be cut back.
When faced with choices on a big white board in the centre of Coventry, with a small selection of services, and how much they cost, a few were prepared to close libraries.
A couple of others thought they could do without a weekly bin collection.
Losing public toilets, at a cost of £142,000, got a big "No".
But the £7m bill for adult education programmes was chosen by several as a possible "cut".
However, there were just as many people shaking their heads and saying no to any savings at all.
One pensioner summed it up: "I can't see any savings anywhere because all of those services affect me."
Doing less for less is going to be tough.
"It is a taster of what's going to come for us," says Councillor George Duggins, the politician who is in charge of finance at Coventry town hall.
"What we will be doing is being honest and transparent with the people," Mr Duggins says.
"But at the end of it, there will be people who are going to be disappointed with the decisions we have to take"
His chief executive, Mr Reeves, sees it as a challenge and an opportunity.
"This will provide us with a unique chance for us and our partners to say, 'look, we've got a much reduced budget, how can we use technology and be innovative, to actually fundamentally change the offer to the public out there.' We're going to have to try new things and take some risks."
Coventry is already well ahead in making early savings. Could this council be a model for other town halls to follow?
BBC News will be tracking its progress in the months to come.
Related Internet Links
The BBC is not responsible for the content of external sites.