Australian dollar and US dollar reach parity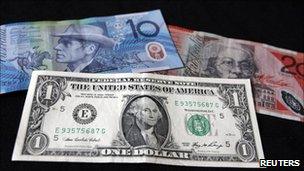 The Australian dollar has strengthened against the US dollar to reach parity with the greenback for the first time since it was floated in 1983.
The one-to-one rate came as investors sold US dollars in expectation the US Fed will restart quantitative easing.
More general concern over the strength of the US economic recovery has been behind a big sell-off in the US dollar.
Investors have also been attracted to the Australian dollar by relatively high Australian interest rates.
Since hitting parity, the US dollar has recovered slightly, with one US dollar buying now buying A$1.0076.
Analysts said the action by the Federal Reserve to increase the amount of money in the US economy was bound to have an impact on prices.
"When the supply of US dollars rises by 160% in just over two years, the price or value of the US dollar should come under significant pressure," said analysts at Australia's Westpac bank.
"However, the weak US dollar is by no means the end of the story.
"The fundamentals for the A$ are very strong and have been present for quite some time."
They cited the relative stability in Australia's public sector finances, and a strong commodities-based economy that avoided falling into recession during the global crisis.
But signs that the US is set for a fresh round of quantitative easing have caused the most recent falls in the US dollar.
Earlier Ben Bernanke said there was a "case" for further action when the Federal Reserve board meets at the beginning of next month.
Related Internet Links
The BBC is not responsible for the content of external sites.