BP Gulf oil spill compensation fund 'faces fraud risk'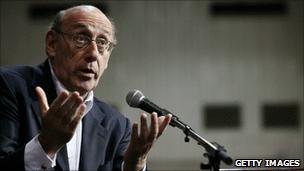 The administrator of a $20bn (£12.5bn) fund to compensate victims of the BP oil spill has said there is "no doubt" that fraudulent claims are an issue.
Kenneth Feinberg pledged to be vigilant over who received payments to protect the integrity of the fund.
About $1.3bn has already been paid out in emergency payments.
There have been about 160,000 applications for compensation, Mr Feinberg told the BBC - about half filed in the last two weeks.
"That's some indication that citizens think that the programme is available to generously pay them," Mr Feinberg said.
"There's no doubt that fraud is hovering all the time over a programme like this."
But he pledged each application would be carefully examined, saying, "nothing would undercut the credibility of this fund more than fraud and the payment of ineligible claims."
The fund is to reimburse Gulf of Mexico residents and businesses for lost wages and profits and for personal injuries and clean-up, among other claims.
Those seeking compensation in return must give up their right to sue BP.
The oil spill, which began 20 April with the explosion of the BP-leased Deepwater Horizon drilling rig, caused widespread disruption along the US Gulf Coast.
An estimated 206 million gallons of oil flowed into the Gulf before BP capped the well in August.
The Gulf Coast Claims Facility, as the claims programme is known, was set up in June amid fears BP would fail to heed President Barack Obama's demand that it reimburse Gulf Coast residents for their losses.
But Mr Feinberg, who oversaw compensation for victims of the 11 September 2001 attacks, said that about 5,000 claims had been made with no documentation at all.
Related Internet Links
The BBC is not responsible for the content of external sites.