US budget deficit falls to $1.3tr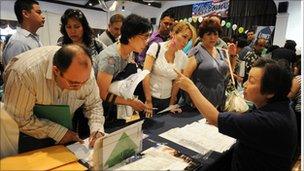 The US budget deficit fell to $1.3 trillion (£813bn) in the year to 30 September, official figures suggest.
The deficit, which comes after the end of the US financial year, represented 8.9% of GDP and was £122bn less than the 2009 level.
However it is the second highest since the end of World War II.
The data "underscored the administration's commitment" to cutting the massive deficit, the government said.
But Treasury Secretary Timothy Geithner warned that "we still have a long way to go to repair the damage to the economy and address the long-term deficits caused by the crisis."
The US has come out of recession but has seen sluggish recovery and spending on benefits has continued to rise.
Unemployment, which has stayed stubbornly at about 9.8%, is widely seen to be holding back US growth.
"Our fiscal outlook, which remains challenging, has improved over the past year," said Mr Geithner and the head of the Office of Management and Budget, Jeffrey Zients, in a joint statement.
They said the improvement was due to "careful stewardship" of emergency programs aimed at put the economy on the track to recovery - such as the Troubled Asset Relief Program (Tarp) to bail out banks,
Spending decreased and revenues rose, but analysts said the government was still borrowing 37 cents of every dollar spent.
And deficits and government spending are expected to contribute to a backlash against the Democrats at mid-term elections next month. The Democrats currently control both houses of Congress.
However both parties have acknowledged that rising deficits will cause trouble for whoever controls Congress after November.
US President Barack Obama has set a goal of cutting the deficit to about 4.3% of GDP by 2013 but there is scepticism that President Obama's cross-party deficit committee will be able to produce a plan that hits such ambitious targets.
There are concerns from some analysts that huge deficits will leave foreigners less willing to keep purchasing US Treasury debt - in the form of bonds.
Economists have predicted that the deficits could result in high interest rates as the government is forced to offer more attractive rates to lure investors.
"If we get to 2013 and policymakers don't look like they have a credible plan to deal with the deficit, then interest rates are likely to rise significantly and that will jeopardize the recovery we have under way at that time," said Mark Zandi, chief economist at Moody's Analytics.
Related Internet Links
The BBC is not responsible for the content of external sites.