Equitable Life compensation expected to total £1.5bn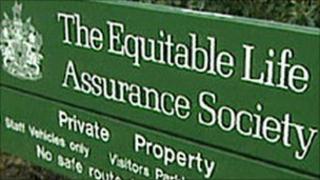 The government is to pay customers of Equitable Life compensation totalling £1.5bn, the BBC understands.
That would be three times more than that recommended in an official report.
An official announcement to 1.5 million savers who lost money in the firm's near collapse in 1999 is expected as part of the Spending Review next week.
Equitable Life would not comment, while members' groups said they wanted to see the small print of the deal - and promised to fight on.
Liz Kwantes of the members' help group said: "We've been waiting for this for 10 years. On the other hand, some people may think this is derisory compared to what we should be getting."
Another campaigner, Paul Braithwaite, general secretary of the Equitable Members Action Group, told the Money Box programme on Radio 4 that £1.5bn was not enough.
"We'll be working with backbenchers and with the new all-party committee of MPs to seek to honour both the ombudsman and the select committee," Mr Braithwaite said. "So the fight goes on."
He added: "I think it's a very cynical act by the Treasury to leak it."
A Treasury spokesman said: "The government believes that the Equitable Life payments must deliver fairness to policy holders and taxpayers."
Some estimates put the amount lost by the policy holders at £4.5bn.
The compensation is still less than many policy holders were hoping for. One, Debbie Wade, says she lost tens of thousands of pounds.
"To be honest, I'm relieved that a sort of half reasonable conclusion has been reached," she told the BBC.
"But, until I know exactly what I will get from it, it's difficult to have a really solid opinion."
The government said recently payments would be made by the middle of 2011.
An independent commission has been set up to advise on the best way to allocate payments.
The Equitable, one of the UK's leading private pension companies, closed to new business in 2000 and subsequently came close to collapse.
It became evident it had been telling savers their polices were worth far more than was actually the case.
When the situation was crystallised following a High Court test case in 1999, it was forced to reorganise its finances by slashing the value of its savers' policies to bring them into line with reality.
This meant not only reducing the value of the pension pots then being accumulated by savers, but also meant reducing the pensions already being paid to some of its customers.
An Equitable Life Bill has now been introduced to Parliament which will pave the way for the Treasury to make the compensation payments.
The former High Court Judge, Sir John Chadwick, who was asked by the previous Labour government to devise a much more limited scheme, aimed only at those who had suffered "disproportionately", recently published his report.
He was asked to work out how much money was lost because of government maladministration in the way the Equitable was regulated.
Sir John said that the investors' absolute loss should be put at between £2.3bn and £3bn, but the compensation should be capped for each policyholder at between 20% and 25% of that.
After further downward adjustments that would have implied a total payout of between £400m and £500m.