Passengers face Eurostar disruption over Belgian strike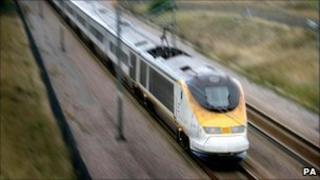 Thousands of Eurostar passengers have had to change their travel plans because of industrial action due to hit Belgium's rail network.
There will be almost no services between the UK and Brussels on Monday because of the strikes.
And Sunday's last departure from London has been moved forward to avoid the dispute, which begins at 2100 BST.
Passengers were urged to postpone travel, but Eurostar services between the UK and Paris will operate normally.
The rail passenger operator said it would run a revised service between Lille and the UK, plus a "limited" coach service between Lille and Brussels for those who needed to travel.
The industrial action meant it was unlikely there would be any high-speed rail connections from Brussels to destinations in France, the Netherlands and Germany, Eurostar said.
The 24-hour strike will end at 2100 BST on Monday.
A Sunday service due to leave London to Brussels at 1934 has been brought forward to 1727 so that it arrives before the Belgian rail network closes.
And on Monday, the 1934 departure from London to Brussels is due to operate as scheduled.
Eurostar usually operates 20 trains each weekday on the route - each with the capacity to carry 750 passengers.