Eurostar trains to Brussels hit by strike in Belgium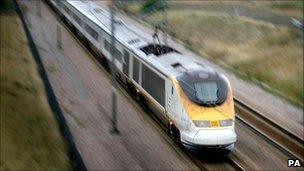 Thousands of Eurostar passengers have had to change their travel plans because of a 24-hour strike on Belgium's rail network.
Eurostar said only one train would run from London to Brussels during the strike on Monday.
The operator said a "very limited" replacement coach service would run between Lille and Brussels.
Eurostar will run a revised service between the UK and Lille, but trains to Paris will operate as normal.
Industrial action by one of Belgium's main rail unions has closed all of the stations in Brussels and brought the country's rail network to a virtual standstill.
The only train running between the two cities on Monday will be the 1934 BST from London, which arrives after the strike ends.
Sunday's last departure from London to Brussels was brought forward to avoid the dispute.
Eurostar said that the industrial action meant it was unlikely there would be any high-speed rail connections from Brussels to destinations in France, the Netherlands and Germany.
The operator said in a statement: "A very limited coach service will operate between Lille and Brussels and we expect heavy demand for these coaches and journey times will be significantly longer (by approximately two hours).
"We would therefore recommend that customers planning to travel between Belgium and the UK during this time postpone their journeys if possible."
The company said that customers could exchange their tickets free of charge within 60 days for a journey in the next 120 days.
Eurostar usually runs 20 trains to Brussels on weekdays, each with a capacity of 750 passengers.
Meanwhile, German rail operator Deutsche Bahn said it had held its first test of a high-speed train carrying passengers through the Channel Tunnel.
Currently only Eurostar is allowed to operate on the route but the German firm is keen to widen competition.
Deutsche Bahn said it hoped to run services to Frankfurt and Cologne within the next three years.
Related Internet Links
The BBC is not responsible for the content of external sites.