Lloyds yet to sign tax conduct code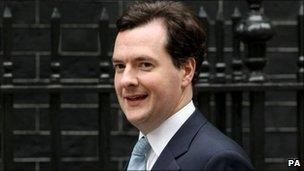 Lloyds Banking Group - which is 41%-owned by government - has yet to sign the government's code of conduct on taxation, the BBC has learned.
Chancellor George Osborne has said only four of the 15 largest banks have so far put their name to the deal.
And Lloyds admitted it was one of those yet to commit - though added it was "working towards" signing up.
Another part-nationalised bank, Royal Bank of Scotland (RBS) said it was among the four to commit.
Other banks which say they have so far failed to join the scheme include Barclays, Santander and HSBC.
All three have substantial operations in the UK - and have indirectly benefited from taxpayer support, said BBC business correspondent Joe Lynam.
Mr Osborne has said he will force the remaining 11 largest banks to sign up by November.
The Labour government introduced the voluntary tax code - stipulating minimum standards of tax compliance - in 2009. The code was published a few months after the government had directly and indirectly supported the banking sector with £850bn of taxpayers' money.
The tax code followed reports of banks participating in large scale tax avoidance schemes using a series of complex transactions and financial instruments.
The code calls on banks to ensure that their tax and the tax obligations of their customers are observed - and that they do not go out of their way to avoid tax for themselves or clients.
It recommends that banks adhere to the spirit rather than just the letter of the law when advising their clients regarding tax avoidance schemes.
Its basis was to encourage banks to consider the wider implications for the economy of their actions, including advice given to customers to minimise payment of tax in the UK.
Standard Chartered was unable to confirm whether it was a signatory.
"At the best of times tax evasion is unacceptable. At a time like this it is immoral," Mr Osborne told BBC One's Andrew Marr Show.
The chancellor that added funding would be increased for HMRC officers to ensure rich people and companies were not illegally dodging tax.
The British Bankers' Association has said its members "would continue to work with HM Revenue & Customs on issues relating to tax".
Related Internet Links
The BBC is not responsible for the content of external sites.