Italy's Enel to float renewable energy arm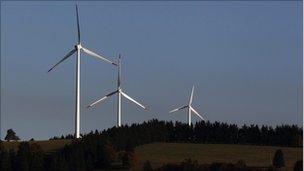 Italian utility Enel has launched Europe's biggest public share offering in three years, as it moves to list its renewable energy arm Enel Green Power.
It hopes to raise 3.4bn euros (£3bn; $4.7bn) by selling up to a third of the business to investors keen to gain exposure to renewable energy.
The shares will be offered to investors from 18 October and will begin trading on 4 November.
Enel Green Power will be listed on the Milan and Madrid stock exchanges.
The arm generates electricity mainly through hydroelectric plants in Italy and also runs wind farms and harnesses geothermal energy.
Enel has pushed ahead with the initial public offering (IPO) despite fears that the renewable energy sector could struggle as cash-strapped European government cut green subsidies.
Europe's IPO market has been subdued but has begun to pick up in recent months.
Related Internet Links
The BBC is not responsible for the content of external sites.