Eurotunnel boosted by holiday demand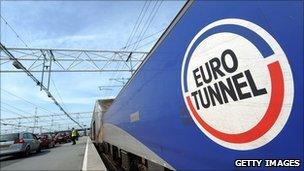 Channel Tunnel operator Eurotunnel has said demand from holidaymakers has helped to lift traffic on its shuttle services.
Vehicle numbers rose 15% in the three months to September from a year ago.
Eurotunnel also generates income by charging other freight and passenger services, such as Eurostar, to use the tunnel.
Across the company, like-for-like revenues were up by 8% at 181.3m euros ($252m; £158.6m)
Eurotunnel said that 14 August was its busiest day on record, seeing it carry 14,975 cars, motorbikes and coaches.
The company said that a squeeze on holiday budgets in the wake of the recession meant holidaymakers looking for better value for money by taking a car full of passengers through the tunnel at a fixed price.
It added it had also benefited from customer disaffection with air travel following disruption caused by the volcanic ash cloud earlier in the year.
"As a result... Eurotunnel's traffic grew substantially and the company succeeded in adapting rapidly to the rise in demand," it said.
Related Internet Links
The BBC is not responsible for the content of external sites.