Royal Mail seeks higher prices for business services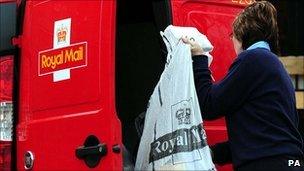 Royal Mail is seeking permission from the postal regulator to raise prices on business mail products in order to generate extra revenue of £100m.
The proposed increases would apply to products such as "access" mail - where Royal Mail delivers letters and parcels for other firms.
Royal Mail says it loses 2.5p on average for each of the 6.4bn pieces of access mail it delivers a year.
The move would not affect first or second class stamps, it said.
Small businesses would also not be affected by the price increase, which would only apply for one year, it added.
"What we are asking for is the chance once-and-for-all to charge a fair price to other companies who use our network to carry mail and to end what is, in effect, the very substantial built-in subsidy which our rivals have enjoyed for years, " said Moya Greene, Royal Mail's chief executive.
If the mail industry regulator, Postcomm, agrees to consider Royal Mail's application to review the price controls, there would first be a public consultation.
If approved, the price rises would come into effect in April 2011.
Related Internet Links
The BBC is not responsible for the content of external sites.