Apple shares fall despite surprisingly strong profits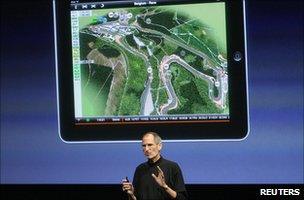 Apple shares dropped 7% in after-hours trading, despite reporting expectations-beating profits of $4.3bn (£2.7bn) for the last quarter.
The net income figure - announced after the close of trading in New York - was up 70% on a year earlier, and beat expectations of $3.8bn.
But the company's stock responded by falling sharply.
Apple's shares have hit historic highs lately, and the drop may be due to speculators selling to lock in profits.
Trading on the Nasdaq exchange closed just before the results were announced, with Apple's shares at $318.30, up more than 50% since March.
The after-hours selloff may also have been influenced by underwhelming sales of Apple's new tablet computer - the iPad, which came in at just 4.2 million.
That represents a rise of just 28% on the previous quarter, which was when the company first launched the new product.
However, Apple can take solace that iPhone sales were not hit by bad publicity over antenna problems with the newly-launched iPhone 4.
The firm sold 14.1 million of its smart phones in the quarter.
Total revenues for the quarter rose 67% to $20.3bn, topping already high expectations by $1bn, thanks largely to the strong iPhone sales.
Sales of its Macintosh computers were up 27% on a year ago, while those of its iPod were down 11% - partly because the latter has been superseded by the iPhone.
The company revised its revenues forecast for the current quarter up to $23bn.
Related Internet Links
The BBC is not responsible for the content of external sites.