Letting agents redress scheme needed, says Ombudsman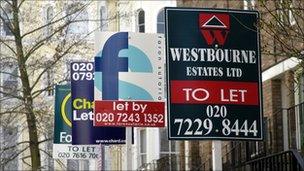 The Property Ombudsman, Christopher Hamer, has repeated his call for all letting agents to be part of a formal redress scheme, like estate agents.
Mr Hamer said this would give private tenants and landlords greater protection in a dispute with an agent.
Letting agents are generating a disproportionately high number of the enquiries made to the Ombudsman.
But in June the coalition government scrapped Labour's plans for stiffer regulation of the letting industry.
Labour had planned to introduce a landlords' register and new regulation of letting agents.
These ideas were abandoned by the Housing Minister Grant Shapps, who said most tenants were happy with the service they were receiving from agents and that the existing regulatory set-up was satisfactory.
However, in his latest half-yearly report, Mr Hamer suggested this was not the case.
"More and more people will be looking to the private rented sector for their housing needs, whether because they cannot get financing to buy a property or because government cuts will possibly impact on the availability of public sector housing," he said.
"It is now more than ever imperative that consumers in the private rented sector gain some protection," Mr Hamer added.
Mr Hamer pointed out that many letting agents, with 7,756 offices between them, are already voluntary members of his redress scheme and agree to abide by his code of practice.
In the event of a complaint or dispute, they can be asked to pay compensation of as much as £25,000 to a tenant.
The Property Ombudsman's scheme is an official redress scheme under the 2007 Consumers, Estate Agents and Redress Act.
But while membership of such a scheme, which has been approved the Office of Fair Trading, has been compulsory for estate agents since October 2008, there is no such compulsion for letting agents.
"Our code is not a heavy-handed regulatory regime," Mr Hamer said.
"But taking this simple step would mean that the whole industry has parity and no firm would be outside the standards.
"It would make competition fairer while offering consumers greater protection."
Related Internet Links
The BBC is not responsible for the content of external sites.