National Lottery: No playing away, says Camelot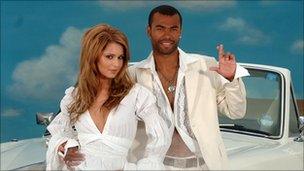 The National Lottery is changing its rules so that tickets bought by people abroad will not be valid.
The change starts on 13 December 2010.
At the moment, tickets can be bought while overseas via interactive accounts, but this may break some local gambling laws which would invalidate the ticket and any winnings.
Camelot, which runs the lottery, said the rule change would make it absolutely clear that buying a ticket anywhere abroad would now be invalid.
"The general rule of thumb is that if any overseas country has its own lottery, playing the UK one will be illegal," said a Camelot spokesman.
"The change is to make it absolutely clear to players they must be in the UK or the Isle of Man."
The basic rule is that anyone taking part in any National Lottery game must be a resident of either the UK or Isle of Man.
From December, they will also have to be physically present there when buying their tickets.
"If you do not meet these requirements, any ticket purchases you make will be invalid and no prizes paid, and we will have the right to reclaim any prizes already paid under these circumstances," the new rules say.
The rule applies when buying a scratch card in a shop.
But the rule change is aimed at stopping people abroad using their interactive lottery accounts.
They may be using the internet to take part in the online "instant win" games (the online version of scratch cards) or texting on their mobile phones, or using the internet abroad, to enter numbers into the draws such as Lotto, Euromillions or Thunderball.
Someone with a regular National Lottery account funded by direct debit will still see their numbers entered while overseas.
However, they will have to be in the UK or Isle of Man when setting up their account in the first place, and also when making any changes to it, such as buying extra tickets or changing their lottery numbers.
Last year, Camelot was accused of not making it clear enough that buying a lottery ticket while abroad would be invalid in some countries such as Spain and the USA.
That was despite the existing warning pop-ups on the National Lottery website and the current rules which clearly warn that tickets might be invalid if buying them abroad involved breaking local laws.
"We don't promote the draw overseas and our licence prevents us doing so - there are plenty of warnings online at the point of sale," the spokesman said.
Even when the rules change, to invalidate foreign purchases completely, Camelot's website technology will not stop buyers who choose to plough on regardless and ignore the warnings.
But the Camelot spokesman said the company's software would be able to detect where players appeared to be buying their tickets - as at present - and they would then be contacted personally to check if they really had been abroad or not.
"Only a very, very small percentage of players are from abroad; we have had a handful of claims from abroad over the years - it is not a problem," Camelot said.
"We have not had any pressure from foreign governments or complaints."
Related Internet Links
The BBC is not responsible for the content of external sites.