Airlines hit by political row between China and Japan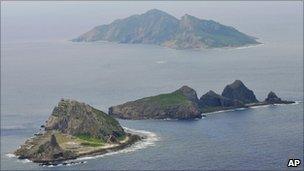 Japan's two largest airlines have said 11,000 trips on flights to China have been cancelled as political tensions between the two countries escalate.
All Nippon Airways said it had received 7,500 cancellations, while Japan Airlines (JAL) said about 3,600 trips were cancelled.
JAL said that it would consider cutting flights if the situation worsens.
A row broke out last month between Tokyo and Beijing over disputed islands in the East China Sea.
The dispute began when Japan arrested a Chinese trawler captain on 8 September near the islands, known as the Diaoyu islands in Chinese and the Senkaku islands in Japan.
In response, Beijing has issued protests, and cancelled high-level official meetings and cultural events.
Demonstrators in both countries staged nationalist protests at the weekend over the rival claims to the uninhabited islands and the waters that surround them.
Related Internet Links
The BBC is not responsible for the content of external sites.