France taps oil reserves amid refinery blockade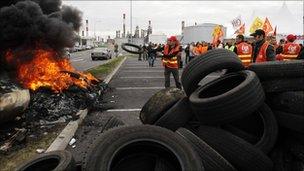 France is using its emergency fuel reserves as supplies are hit by strikes over state pension reforms, the International Energy Agency has said.
France, like other members of the body, were obligated to keep at least 90 days of oil imports on hand as emergency reserves, it said.
France had already begun to draw down on the 30-day reserves held by the oil industry, it said..
About 1,500 petrol stations in France have run dry or are about to close.
All but one of France's 12 refineries have stopped production as refinery workers joined the strike.
Aad Van Bohemen, head of the IEA's emergency policy division, said it was unlikely that France would have to tap its government-controlled strategic oil reserves that last for 60 days.
Reserves are constantly replenished by oil imports, he said.
France's reserves are 50% crude oil and 50% "oil products", such as petrol, diesel and heating oil.
He expected shortages caused by panic buying to be short-lived as hoarding of petrol is not allowed in France.
"People aren't allowed to fill up jerry cans," he said.
The reserves are held at the country's 12 refineries and 100 depots across the country.
Some strategic oil reserves are held at an underground storage facility in the south of the country.
Related Internet Links
The BBC is not responsible for the content of external sites.