China makes surprise interest rate rise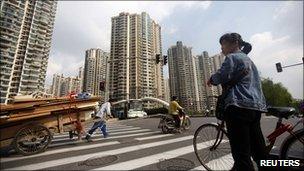 China has raised interest rates for the first time since 2007, as it tries to rein in inflation and dampen its red-hot real estate market.
The People's Bank of China said it will raise its one-year lending rate to 5.6% from 5.31% and its one-year deposit rate to 2.5% from 2.25%.
This is the first time China has raised the cost of borrowing since onset of the global financial crisis.
The surprise move caught financial markets and investors off guard.
European and US stocks fell, with mining companies hit on fears that slower growth in China would hurt demand for raw materials.
The dollar rose as the rate rise made investors more risk averse. The dollar tends to be regarded as a relative safe haven in times of uncertainty.
Analysts said China had delayed raising rates fearing it could led to an influx of speculative money, making it more difficult to keep its currency stable.
Inflation has been picking up in recent months and property prices in major Chinese cities have remained high despite measures to prevent a bubble.
The government was also keen to rein in a recent surge in bank lending that could lead to the economy overheating.
"The government has given a strong signal that it would like credit growth to slow," said Mark Williams, China economist at Capital Economics.
Related Internet Links
The BBC is not responsible for the content of external sites.